What could be better than spending a day on a boat, soaking in the sun, riding the waves, lazing around on a lake or fishing to your heart's content? Spending the night on your boat of course!
Boat camping combines the excitement of camping and boating into one and it is enjoyed by outdoor enthusiasts all over the world. You get to sleep below the starry night sky, breathe in fresh air, and have the soft lull of the lake rock you to sleep all night long!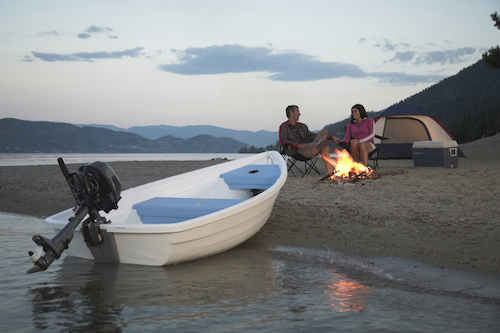 Where to Boat Camp?
This may sound like tons of fun but you may be thinking "where should I boat camp?"
As a beginner, you should look to select campgrounds with dedicated boat slips and mooring areas. A good place to start boat camping would be your local state parks and national forests. Finding a place to camp can be as simple as picking a park or campground with a boat ramp, putting in at the park, and camping around your chosen body of water. That way you will still have your car nearby to pack your boat up and drive to a new spot.
The luxury of boat camping is that you never have to spend a night in the same location, unlike a lakefront home. You can easily move to a new spot on the lake and wake up to a different view each morning! Just be sure to look out for "no trespassing" or "private property" signs before you set up camp.
Plan Ahead!
Check the weather forecast ahead of your trip. You should arrive at your location early in the day to avoid choppy waters and afternoon showers. Also arriving in the daylight also helps you learn the route and allows you to spot hazards in the water such as tree limbs.
Be sure to check that your equipment is working properly and all your electronics are fully charged. You may even want to invest in a radio so you have a way to communicate in areas without reception.
Prep your meals in advance to make it quicker and easier to cook while boat camping. Consider how much water and how many meals you will need for the duration of your trip. Make sure to bring extra food and water just in case!
If you are planning to fish, make sure you have the proper licenses and check local limits and regulations.
Don't forget to plan ahead for bathroom use! Some boats may come with bathrooms, but if yours doesn't make sure to pick a location that gives you easy access to the restroom. If your campsite does not offer any facilities, you may have to bring a portable toilet or a shovel to dig a hole. But keep in mind that some places require you to take your human waste as well along with your other trash.
Make a packing list! This will help ensure that you don't forget anything and you'll be prepared for your boat camping trip.
Maximize the amount of storage your boat has and know the amount of weight you are adding to the boat. You want to be sure you don't weigh down the stern so much that the bow rises too high when you apply power, or the boat may not get onto the plane properly.
Boat Camping Gear
You will not only need camping gear, but additional safety gear to make sure you have a relaxing and safe trip.
Safety Gear:
Personal Flotation Devices
Whistle
First Aid Kit
Basic Repair Tools
Anchor and Rope
Radio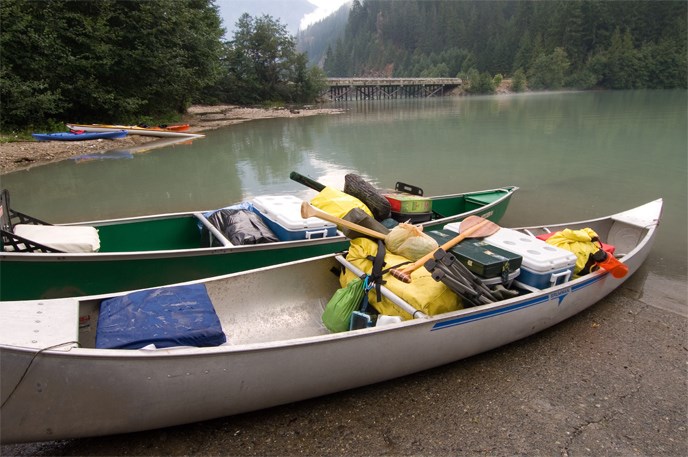 Camping Gear:
Tent and Stakes
Layers of Clothing
Air Mattress/ Sleeping Mat
Pillows and Blankets
Extension Cord
Insect Repellent and Sunscreen
Flashlight
Tarp
Trash Bags
Chairs
Games
Cooler and Prepared Meals
Freshwater Container
Cookware and Plates
Firestarter and Lighter
Towels
Toilet Paper
Setting Sail
Whether you dock at a campsite or in the open waters, this trip will be an unforgettable experience. Remember to stay safe and have fun while lakefront living. Life is definitely better on a boat!
Posted by Scott Freerksen "The Lake Guy"