As the winter sets in and the lake starts to freeze over, the season for ice fishing is just beginning! Ice fishing is one of the most enjoyable and inexpensive winter activities. It is a perfect activity for everyone, from anglers who are just starting out to the most experienced.
If you plan on going ice fishing there are some important things you should know before heading out…
Safety First:
You might feel a little uneasy while standing on top of the ice seeing as hypothermia is something you do not want to mess with. Therefore it is important to take the proper safety precautions. 
It is essential to check the thickness of the ice. This is why it's essential to check if the ice you're standing on is thick enough. You can do this by piercing the ice with a spud bar or an auger. A good rule of thumb to follow is:
a minimum of 4 inches for people
at least 6 inches for sleds (snow machines, snowmobiles)
a minimum of 7–12 inches for light cars
at least 14–16 inches for full-sized trucks
Also, always be on the lookout for rotten ice. You can spot rotten ice by its discoloration, as well as the cracks, holes, and water flows it has.
Some other essential safety items to use on your outing include:
metal cleats for traction on the ice
an ice spud to check the ice ahead (a solid knock is what you're after)
a life vest
a whistle in case you get into trouble
warm layered clothes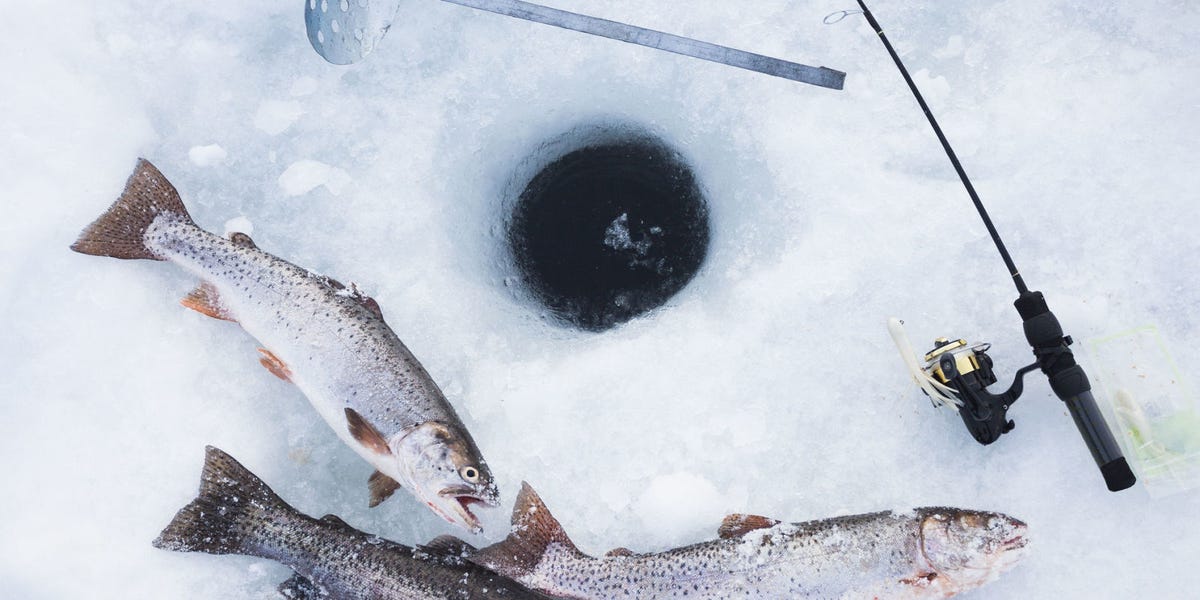 Finding a Good Spot:
During early ice, fish like to feed exactly where they left off just before the water froze. But as the winter progresses, the fish move towards deeper waters where it is not as cold. If you're on a lake for the first time, try fishing the basin or the steepest shoreline you can access. Bigger fish like to move along the steep shorelines looking for food, especially during early morning and near sundown. For newbies, targeting schools of fish near the bottom is your safest bet. You can also check if the local bait and tackle shop has some useful pointers.
If you're willing to invest a little bit more, a fish finder can be a real bang for your buck! With a fish finder sonar you will quickly find the bottom mounds and uneven areas where perch like to hide. At a certain water level, you will notice a group of fry that no self-respecting predator would ever pass by. With this device, you can constantly see your bait on your phone screen, as well as what swims up to it.
How to Ice Fish:
There are many types of ice fishing. Some include…
Jigging with a Spring Bobber- Jigging is one of the easiest and most enjoyable ways to go ice fishing! Your rod will be short (around 28 inches) and you can use bait such as small minnows, maggots, or wax worms for live bait. A spring bobber is more sensitive than a regular bobber, so you'll be able to notice even the slightest pull. Not only that, but the spring bobber also dampens your jig movement and mimics bait movement more naturally.
2. Tip-Ups- Using tip-ups is a little less hands on and a little more sitting back and waiting. Ice fishing tip-ups are devices used to suspend bait at a set depth and to detect a fish bite without the need to touch the contraption. When a fish takes the bait, it triggers a small flag, indicating a strike. When the small flag goes up, this is now the time the reel the line in by hand!
3. Spearfishing- Spearfishing on frozen lakes requires a lot of skill and patience. Youl'll be fishing a lot closer to the surface so you're going to need a lot of chum to lure the fish. You will beusing a multi-pronged spear to maximize your chances of a hit. Be aware that many states have restrictions on what exactly you can spearfish for, so keep an eye out and follow local and state guidelines!
4. Clubbing- This method is hardcore and is rarely seen nowadays. You stand on clear ice in shallow water, peering down for fish. Once you notice a fish you'd like to catch, you slam your club with full force, stunning the fish in its place. As soon as you do this, you need to get to drilling a hole in the ice.
Depending on what method you're willing to try, the equipment you'll need will differ as well. Here are some ice fishing gear essentials:
Small jigging rod
Spring Bobber
Leader
Hooks
Lures
Jigs
Tip-up (typically replaces the jigging rod, but can be used in conjunction)
Enjoy!
Every season in your new lakefront home, brings the opportunity for new experiences! If you want to check out ice fishing remember to bundle up and be safe. Bring out some family and friends and let the fun begin. Wishing you the best of luck catching fish this winter season!
Posted by Scott Freerksen "The Lake Guy"