Everybody dreams of a perfect getaway to unwind, relax, and de-stress. And where else would that perfect place be other than in a beautiful lake house surrounded by the magnificent view of the outdoors? Whether you're a lover of lake house living, or you just want a quiet and peaceful vacay to recharge your mental batteries, the lake house is the ideal place where you can truly rest and slow down.
After purchasing your lake home, your budget might be a little tight… but with these lake house decorating ideas on a budget you will have the home of your dreams without breaking the bank!
Paint- One of the easiest and cheapest ways to transform your space is with a fresh coat of paint. Using neutral colors can bring your space a bright and airy feel to make it more relaxing and welcoming.
Refinished and Reupholstered Furniture- Buying used furniture from a second hand store or directly from a seller on the internet can save you a ton of money. Selling furniture can be difficult and sellers want it gone for a reason, so buyers have an advantage to negotiate pricing. You can even use pieces you already own!
With a little time and effort, your pieces can be recovered in fabrics that enhance a lake house ambiance. DIYing your furniture can be a fun project that adds a unique twist to your home and can really showcase your personal style. Projects such as reupholstering the couch, staining the dining table, painting the chairs bold colors to make them stand out against the dark flooring can make used pieces look like they were bought from a luxury furniture store while not hurting your pockets.
Décor Finds in Flea Markets- Don't stress over buying expensive decor items. There are plenty of thrift stores, flea markets, and online shops where you can find one-of-a-kind items that would fit perfectly into your lake home.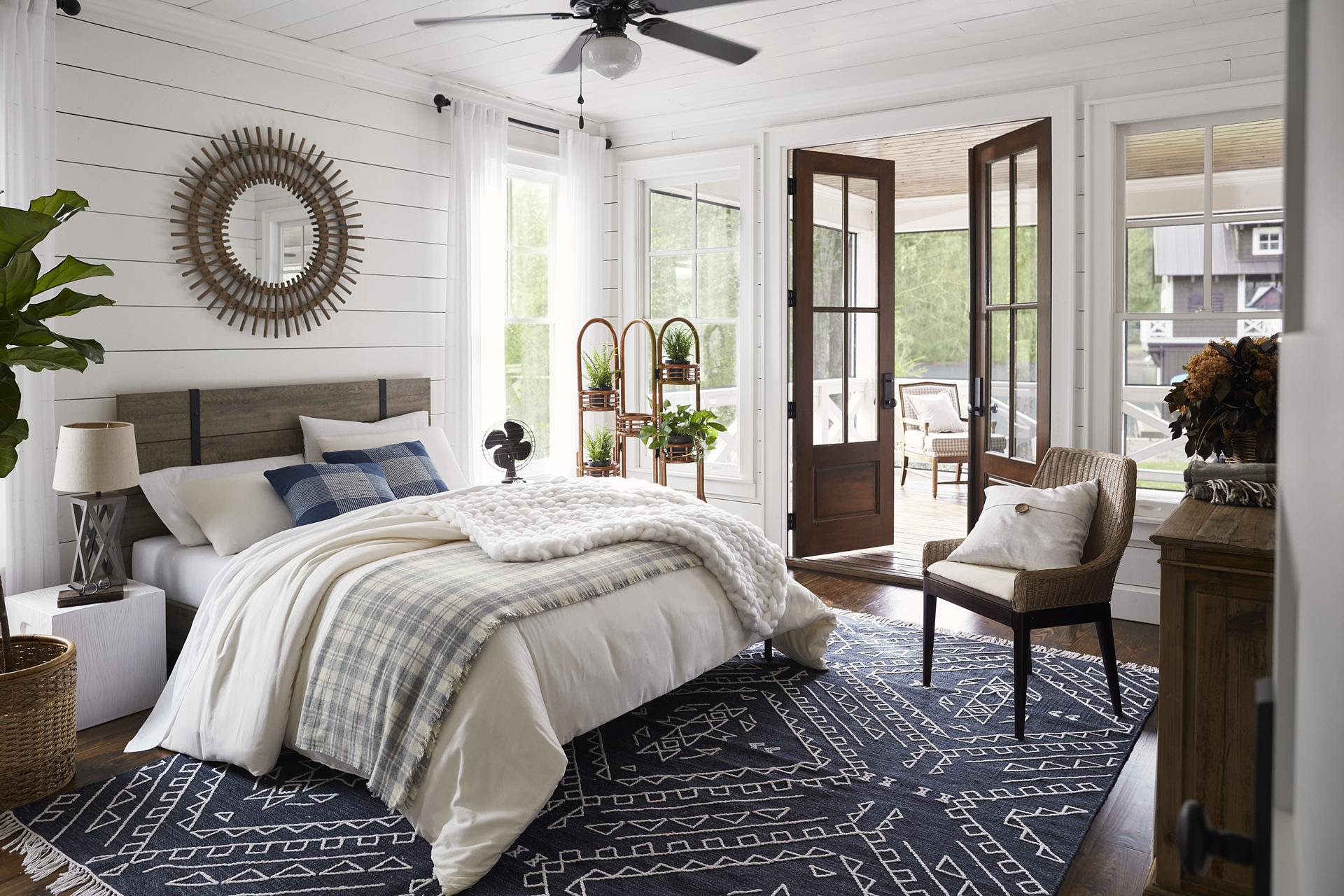 You will need to decide on a design style that you want to achieve before purchasing décor items. If you're going for rustic-chic, opt for wooden or vintage style lampshades, lighting fixtures, vases, trinket bowls, and mirrors. For a more contemporary feel add wooden geometric décor pieces, handmade or woven accessories like a macramé wall hanging, candles, glass flower vases, and books.
Artwork– Old wooden signs or window frames make good wall decorations and can be found second hand. You can make your own artwork by pressing dry flowers under glass.
You can also support your local artists and purchase orbital paintings and sculptures from them. It's another creative way to incorporate a little dose of culture and community into your lake house interior design.
Update the Hardware- This is one of the simplest yet most overlooked budget-friendly design hacks. Updating the hardware of your cabinets and drawers can make a huge difference by giving your space a more stylish and refreshing look.
Change the Lighting- Changing a lamp or a chandelier can enhance your space dramatically. Lighting can bring all types of moody feelings to a room. Even the choice of lightbulb can make your design feel like the perfect getaway.
You can find many vintage lightings ranging from scones, lamps, and chandeliers that go well with your lake house. You can find some really unique pieces that look expensive but aren't!
Add Indoor Plants- Decorating with plants is an extremely cost-effective way of bringing an interior space to life! Plants in vases are a beautiful addition to spruce up console tables, coffee tables, and dining tables. Indoor plants help to purify the air and there are many psychological health benefits of plants. Having plants is shown to relieve stress and anxiety, keeping us healthier and happier. You can always opt for faux plants that look unbelievably real if you don't have a green thumb.
Purchasing a new lakefront home is one of the best life decisions to make memories with friends and family. It is a big purchase and decorating might feel overwhelming… but gather inspiration pictures to get an idea of how you want to design your space and get hunting for finds at your local thrift stores, flea markets, and the internet. Do not stress because you can achieve the home of your dreams on budget!
Posted by Scott Freerksen "The Lake Guy"