Buying a pontoon boat is very exciting because you're quite literally buying a lifetime of memories and fun! But the initial cost as well as the upkeep can be extremely nerve wracking… Today's blog post is all about breaking down the cost to own and run a pontoon boat to hopefully put your mind at ease.
How Much is the Initial Cost to Purchase?
The initial cost of buying a pontoon boat can vary depending on the size, upgrade features, accessories, quality, engine. The best way to navigate what type of pontoon boat to purchase is by making a list of what you plan on using it for… Is it for fishing? Leisure sailing with friends and family? Speed racing?
The price differs from type to type but the overall average cost for a pontoon boat is around $30,000 to $40,000. You could always find a boat for $20,000 or under, especially when you buy used, or opt for a top of the line boat for well over $150,000. If you're on a tight budget you should consider purchasing a used boat at a very attractive price from your local boat repair mechanic! Be careful not to buy a boat older than 5 years because once you purchase it, the problems will begin and you may end up spending more money repairing it. Ideally, you should be buying a pontoon boat that has been lightly used for about 2 years.  It might be difficult to gage the price of boats in your area because many manufacturers do not allow their retailers to advertise prices. Manufacturers do this because they have a strategy of putting up higher prices so you would come out of the negotiated deal feeling more satisfied. However, if you put some time into the pricing of boats you could contact some manufactures about an overview of their real prices, that way you won't have the issue of overpaying or fishy deals. 
Accessory Costs:
Once you've decided what pontoon boat fits your lifestyle best, you'll want to consider investing in some accessories such as…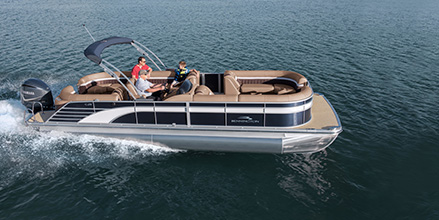 Upgrading your motor from, let's say, 115hp to 150hp would cost around $3000.
A fishing live-well could vary from $200 up to $1000.
Ski tow bars are often included, but if not then you may consider them. Generally, you would pay about $200 for a ski tow bar, and more expensive ones go for around $800.
Another expensive utility is the camping boat to cover the boat. One may cost from $1500 up to $2000.
Speakers are common in today's boats, but if you don't have them, you could buy some online – they're only around $150, including the Bluetooth module, and they're also super easy to install yourself.
A ladder! If you don't want to get stuck in the water, it would be a good idea to get one!
A mooring cleat could also be a good idea, which should cost no more than $30.
A nice idea would be also upgrading to vinyl flooring. The prices vary from $300 to $1000, but if you want to feel more comfortable in your awesome boat, this would surely make it! The most important thing to pay attention to when shopping for boat vinyl flooring is making sure it is marine grade and comes from a reputable brand.
Running Costs:
Now that you know how much your pontoon boat will cost, you might be wondering how much it will be to upkeep it.
The initial startup costs will include…
Essentials including safety equipment, anchors, lines, and ropes – $1,000 to $1,500
Training costs if you are completely new to boating– $250 to $300
Boat trailer – $3,000 to $6,000 if not included with purchase
The ongoing costs include:
Marina rentals costs – $1,500 to $2,500 per year (dependent on marina)
Boat insurance – $100 to $360 per year
Maintenance costs – $1,000 per year (depending on boat age)
Cleaning – $450 per year (if you employ someone)
State boating license – $50 to $75 per year
Cost of gas and fuel – dependent on your own usage
Taxes, title, and registration fees – will differ from state to state
Adding a pontoon boat to your lakefront property will add tons of fun to your days on the water. You will be able to create lasting memories of cruising around with friends and family and soaking up the summer sun! Although the initial price may seem hefty, the benefits are priceless!
Posted by Scott Freerksen "The Lake Guy"