Are you still unsure of what to give to the boater in your life this holiday season? Boaters are passionate about their favorite pastime, so if you give them a gift that makes boating more fun, easier or safer, they are sure to love it! Today I am sharing the best holiday gift guide for your lake lover….
Personalized Beach Towels: 
Beach towels are perfect for drying off after a dive off the swim platform or adding an extra layer of protection from the wind and sun. So why not make them cooler by adding a personalized touch? You can customize the towels to match the boat exterior and interior, add their name, or the name of the boat. There's so many possibilities!
The New GoPro Hero:
Boaters make memories every time they leave the dock, so get them a gift to capture the moment. The new GoPro Hero is completely waterproof and features a front display that allows you to see what you are recording, full HD 5K video, 30% more battery life, Hypersmooth 3.0 stabilization, and much more! Now they will have the perfect gift to capture all their watersport tricks!
"Fill-Up" Gas or Diesel Gift Card: 
Filling up your boat with gas can start to add up throughout the year. That's why a gas gift card would be a great option for those who love to cruise around all day on the lake. Find out where they fuel up and grab a gift card!
Boat Shoes: 
A cool-looking and comfortable pair of shoes is what every boater needs in their life. There are many great brands to choose from! Try gifting your boater a pair of Sperrys. Sperry Top-Siders were the first boat shoes ever to hit the market. Today, the company makes an array of boat shoes for women, men and children alike. There are now multiple styles of boat shoes, from the classic design to versions made with mesh panels for extra airflow around the feet.
Yeti Wine Tumblers and Cooler Bag: 
Yeti is perfect for lakefront living. Upgrade your wine tumblers to Yeti's kitchen-grade stainless steel. They are made of kitchen-grade stainless steel, these tumblers feature double-wall vacuum insulation that keeps wine or other liquids cool even on the hottest days. They are available in six colors, so you can probably find one that matches the boat or onboard décor. If you're looking to add a little more under the tree check out Yeti's cooler bags. They are perfect to store your drinks and snacks in on a hot summer day and easy to move from your lakehouse to your boat.
Boat Loop: 
A boat loop is an amazing gift for the captain to look like a pro while pulling into the dock. This handy tool includes an extendable pole with a flexible loop attached that the boater or a member of the crew can use to snare a piling or dock cleat when coming into a slip. No need to be a lasso expert when you have The Boat Loop!
Tough Marine Bean Bags:
Beanbags on the boat are lifesavers on the way to fishing grounds, back savers on a choppy day and kid savers when they get overtired. They are perfect for kicking back and relaxing on the lake. Marine-specific bean bags are tough too – they repel water, have double-stitched seams and integrated grab handles (which are critical for tying down).
Waterproof Speaker:
Most boats come with speakers, but a waterproof speaker lets you take those tunes straight to the beach! JBL makes some wonderful and affordable waterproof speakers that are durable against drops. The sound quality is great, bass is good, charge lasts a long time, and it comes with bluetooth pairing. One of the best gifts for the boater who likes to kick back and relax to some music!
Pocket Knife:
Boaters should always have a pocket knife on board as a part of their safety gear. The James Folsom Bone + Black knife is one that will last a lifetime. It comes with a stainless steel blade that holds an edge, resists corrosion and is easy to care for. With an ambidextrous blade opening slot and reversible clip, tip-up carry, and serious gripping power, this is a blade you'll be proud to keep on your boat.
Earth Pak Waterproof Dry Bag With Waterproof Phone Case:
When you are spending the day out on the water, it can be challenging to keep your belongings dry and safe. These waterproof bags and phone cases will take the worry away. These bags come in eight different colors, as well as five different sizes ranging from 10L to 55L. Plus you can even still use your phone while it is safely in the waterproof phone case!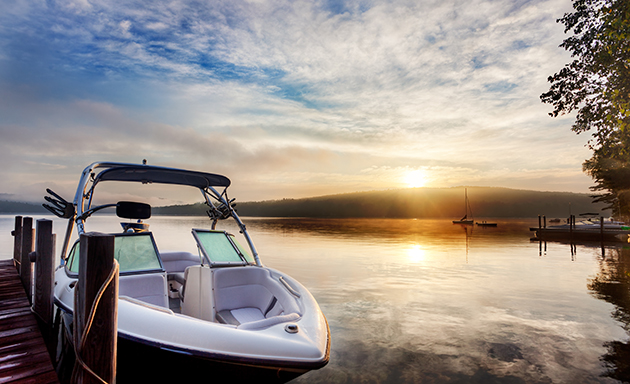 Get your boater something they could really enjoy for Christmas! These gifts are all great options they'll be sure to love. Lakefront living comes easy when you have the right tools, friends, and family to enjoy it with.
Posted by Scott Freerksen "The Lake Guy"