Boats belong in the water right? Yes of course, but no… Storing them in the water 24/7 year-round can cause damage and decrease their value. This leads to more maintenance and work for you in the long run — and less time spent enjoying your boat with friends and family. However, a boat lift keeps your boat out of the water while you are not using it and protects it from damage and the elements. Although purchasing a boat lift can be a high upfront cost, it is well worth the price and here's why:
Peace of Mind: Approximately every two out of three boats that sink, sink at dock! Boats that are constantly being splashed by water endure a lot of wear and tear. If you are not home to notice a problem you might come home to your boat underwater. For example, a failed bilge pump is a common problem that could lead to sinking. Most boats that sink do so at the dock, but you won't have to worry about that if your watercraft is not in the water to begin with!
Less Cleaning: Algae is a very big concern if you wet store your boat. It will start to collect on the exterior of the boat, resulting in layers of moist scum and residue that takes time and effort to remove. Corrosion can also occur and lead to leaks if you're not careful. Keeping your boat above the waterline creates an environment in which algae will not grow and corrosion can be avoided, meaning you will not have to waste time scrubbing algae off or getting a new paint job. If you have a boat lift, it greatly reduces the cleaning time because your boat is only in water while in use. Add a canopy to your lift and you are protecting all aspects of your vessel!
Vessel Damage: Harsh weather conditions in which the water levels shift or where debris is present can cause a lot of stress on your boat that shortens its life, not to mention wet storage causes hull blisters and other damages to props and shafts. This can lead to extremely costly repairs or even losing your boat. Additionally, a boat that is stored dry and out of the water increases the resale value by approximately 10-20% in comparison to those stored in the water.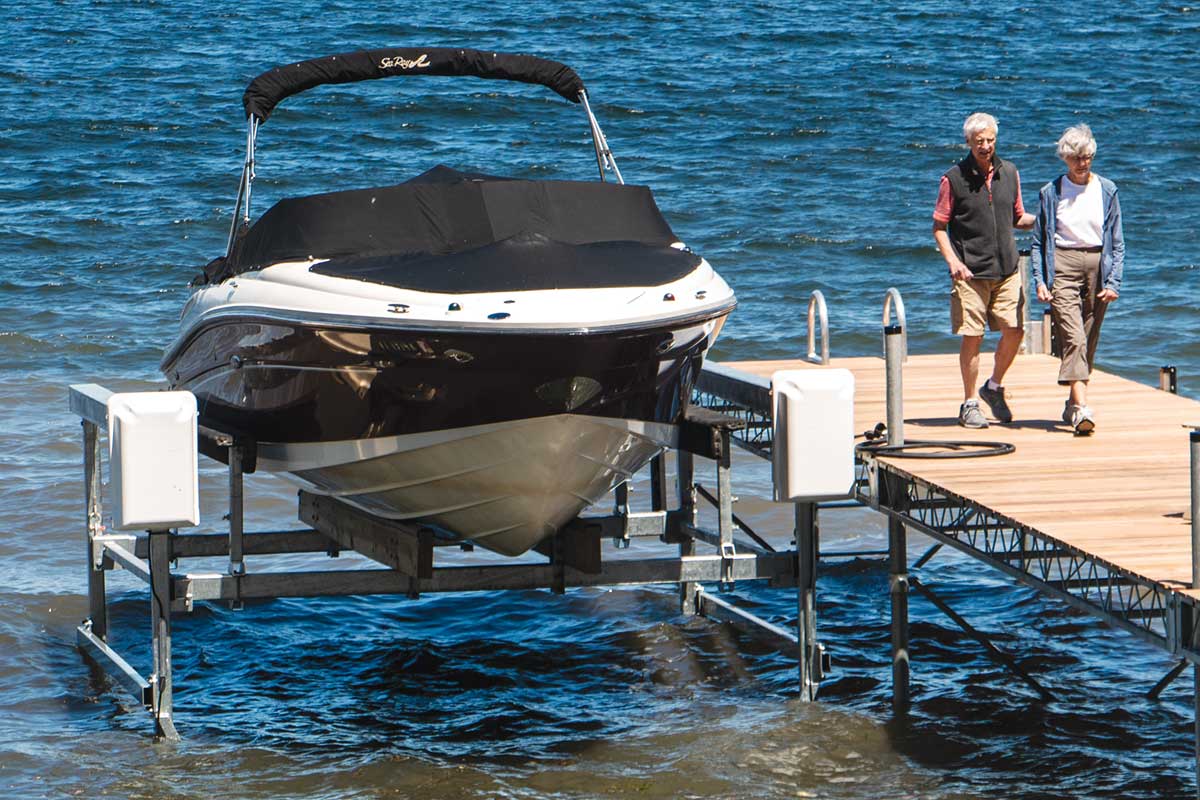 Saves You Money: Nobody wants to spend more money than they have to on having a boat. Damages caused by wear and tear or corrosion can get expensive. Therefore, a boat lift can save you money over the years by not having to do as many repairs and routine maintenance adjustments.
Additionally, having a clean bottom means that you can:
Improve performance
Increase range
Save fuel
Reduce gas mileage
Eliminate the recurring cost of painting the underside
Have a boat that looks as good as the day you bought it
Quicker, Safer, Easier Boarding: Having a boat lift will ensure you are ready to launch in a matter of seconds! There are no complicated lines to untie, no need to check for leaks or other damages, and no need to scrub away icky algae. Whether you have a front mount or side mount, the changing water levels can make it tricky to get on and off; however, boat lifts provide more stability for boarding, making the whole process safer. Finally, with the easy turn of a handle or flip of a switch, you can be ready to go in no time, which means more time out on the open water enjoying the day with friends and family!
Having a boat lift can make your boating experience so much easier, safer, and a lot more fun because you won't have to stress about costly repairs and damages from constantly being in the water. With a boat lift you are able to enjoy a relaxing day with family and friends and soak up everything your new lake home has to offer! Who wouldn't love to have one less thing to be stressed about especially in this day and age!
Posted by Scott Freerksen "The Lake Guy"