Watching the sunrise over a glassy lake. Long summer days spent out on the water. Sunset boat rides. Bonfires with singing and roasting marshmallows. Bonding and memories that will last long after you've packed up the car to go home.
Purchasing a lakefront home can be one of the most worthwhile purchases but there are a few considerations you should take before diving right in. Today's blog post is all about what you need to know while buying a lake home…
Figure Out a Budget- Lakehomes are generally more expensive than traditional homes, and if you're purchasing it as a second home, financing will come with more stringent requirements.
You'll probably have to pay for flood insurance, on top of what will likely be higher-than-average homeowners insurance costs. Even if you aren't required to have flood insurance, you should still seriously consider it. Even just a few inches of water can cause costly damage to a home, and regular homeowners insurance typically doesn't cover flood damage.
You will also have to budget in for maintenance because lakefront homes take more wear and tear than traditional homes. Although you may have an idea of what you can afford, it is best to crunch some numbers and get pre-approved. Don't forget to factor in HOA fees and property taxes while budgeting. Knowing exactly what you can afford will help your agent narrow your search down to specific lakes and lot sizes.
Maintaining a Lakefront Home- Although we just mentioned that lake homes require more maintenance than a traditional home, let's dive a little deeper.
When you live on the water, there's very little blocking your home from the elements. The humidity from the water may break down the materials your home is made of, and people tracking in sand and water often may cause damage to the interior.
Additionally, a house within proximity to a body of water is more exposed to storms, mist and natural disasters. If you're purchasing a property, be sure to have your inspector keep a keen eye out for the wear and tear that comes with lakefront properties.
You'll likely have to put more work into maintaining a waterfront property than one that's inland too. It's important to note that this will likely mean additional expenses and time that you'll have to dedicate to home maintenance and upkeep. For example, you might have docks or retaining walls on your waterfront realty that need regular maintenance.
Consider How You'll Use Your Home- Are you looking for an investment property, a vacation home, or an all-year-round home? These questions will lead to very different houses…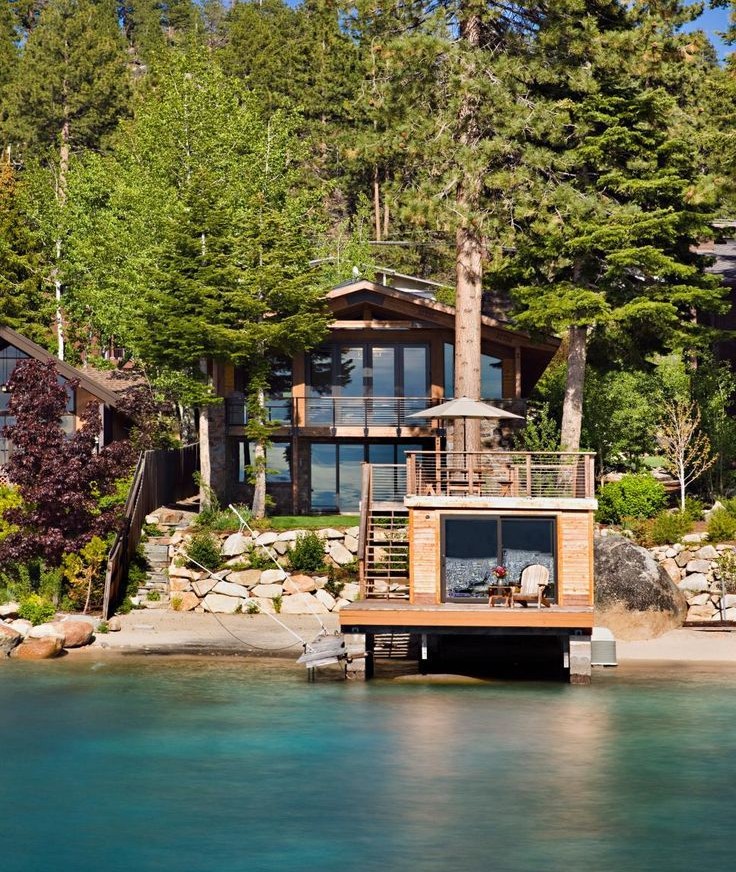 It's not just how; it's also how often. If you only plan to spend summers at your lake house, it might make financial sense to rent to students or corporate tenants during the off-season. Likewise, if you foresee being away from your lake house for at least 4 weeks of the summer, you might consider generating income from short-term renting.
Expansion Possibilities- On many lakes, there is a wide variety of housing. In some lakefront locations, the housing has started as small vacation-style cottages only to be expanded upon and turned into permanent residences.
Quite often, local zoning can vary quite a bit on a lake – sometimes, the lots' size is a lot smaller than lot sizes in a non-waterfront location. It is important to find out what you can and can't do before purchasing.
You may have grand visions of putting on a second story or adding a large addition and discover it's just not possible. Better to find out before than after you have made your purchase.
Privacy and Lake Access- You will need to decide how much privacy you want… being closer to the water means it is easier for neighbors and boaters to see your home. This may or may not be a problem for you, but it is worth thinking about when looking at different properties.
Lots with more distance between the home and the water – a distance that still offers a clear line of sight to the water – are usually more expensive than those that are right on the water. The extra cost may be worth it, though, if you prefer more privacy.
You will also want to consider how easy lake access will be. Will you have to walk through yards in a path to reach the lake? Is your lake on a steep plot of land where it will be difficult to get down when you're older? These are things you will have to consider before buying.
Don't Skimp on Home Inspections- Getting a home inspection is important no matter what type of home you're buying, but it becomes even more vital when you're considering waterfront property.
Water can do all kinds of damage to a home, so it's important to make sure any houses you're looking at don't have problems with leaks or flooding. An inspector will make sure that you won't have to deal with an unexpected water intrusion or mold issue upon move-in.
If the home is hooked up to a septic tank, you should have that inspected, as well. Repairs to a septic system can be expensive and inconvenient; if an inspector finds an issue, you can ask the seller to pay for it, rather than having to cover it yourself and deal with an unpleasant surprise when you're trying to enjoy a weekend at the new lakehouse.
Find a Real Estate Agent Who Specializes in Lakefront- It is crucial to hire a real estate agent who specializes in lakefront to help you understand the unique challenges and benefits of owning a lakehome.
Your lakefront sales specialist should be able to answer any questions you have, know your comfort level with lakefront maintenance, and guide you toward the best home for you and the lake experience you're looking for.
Here at Lakefront Living we have some amazing lakefront specialists that will help guide you to the home of your dreams!
Now that you've considered some of the possibilities of owning a lakefront home property, it is time to hit the books and crunch the numbers so you can be one step closer to paradise. Once it's all said and done, you'll have a new, fun getaway spot to enjoy with your family or friends for years to come.
Posted by Scott Freerksen "The Lake Guy"