Memorial Day weekend is the last weekend in May and is known as the unofficial kickoff to summer! Memorial Day weekend usually brings warm weather and lake activity starts up again after a long winter. After this weekend, the lake roars with boaters especially during the fourth of July, and winds down after Labor Day weekend. During these busy peaks, you can expect crowded waterways and busy launch ramps. With this in mind, it is more important than ever to practice proper boating safety and etiquette to keep yourself and others out of harm's way. Today's blog post is all about how to navigate the busiest boating weekends of the year:
Learn Before You Head Out
Make sure to ask locals and marina staff what the peak times are for the lake to avoid the crowded waterways. For example, opt in for a late morning cruise if the peak times are in the late afternoon. Also if you are exploring a new lake, be sure to have a chart with you to find where channels, sandbars, and submerged objects are.. before you head out!
Take it Slow
It is an exciting time to be out on the lake celebrating a holiday weekend and the last thing you want is someone being injured or damaging your boat. That's why it's important to drive slowly since the waters are crowded. Practice proper boating safety while also looking around to spot your fellow boater friends.
Be Extra Cautious While Boating at Night
One of the best spots to be while watching the Fourth of July fireworks is right on the lake! But remember that visibility is reduced at night, therefore you need to be extra cautious of other boating and anchors. Have someone on board be the lookout to help guide you from entangling anchors.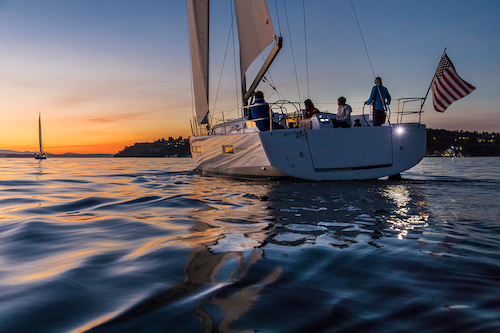 Double Check Your Safety Gear
Make sure to have all your life jackets, safety rings, etc on board with you in an easily accessible location. Also be sure that every passenger knows where the safety gear is incase of emergency especially with a busy waterway!
Have a Sober Driver
Operating a boat while intoxicated is highly illegal and it dramatically increases the risk for injury. Make sure you have a sober designated driver to have a safe and relaxing weekend. Instead toast to a drink on the dock with your friends and family after the boating is done!
There's nothing like enjoying a holiday weekend out on the boat at your new lake home with family and friends. These summer weekends create lifelong memories that you will look back with nostalgia on. It is important that you know how to navigate these busy weekends so your family and friends can stay safe.
Posted by Scott Freerksen "The Lake Guy"