If you live on a lake, river, or other body of water, you may want to consider building your own dock. A dock gives you better access to the water, makes launching a boat easier, and in many cases can seem like a deck on the water.
Docks come in many shapes, sizes, materials, and configurations. Most homeowners building a personal, stationary dock spend around $5,400 for a wooden dock measuring 6 x 30 feet. By fixr.com.
Types
Many different types of docks are available. Some remain in the water year-around at your lakefront property, while others are only put in at the start of the season and taken out later. Some docks use a combination of stationary and temporary portions that let you increase the size of the dock as needed:
Floating docks: these are meant to be temporary, whether used alone or in conjunction with a stationary dock. They float on barrels or special containers that keep the dock on the surface of the water.
Piling docks: these are what most people are familiar with. They are made by driving wooden pilings deep into the sand beneath the water and building the dock on top.
Pipe docks: these are a newer form of piling. They use a PVC pipe filled with concrete to sink the wooden pilings, which makes for a faster install.
Crib docks: these are made of a very large container filled with rocks or concrete that the dock is then built on top of. They are very stable and secure and last for years.
Suspension docks: these are designed to hang over the water, rather than go in it or on it. They can be raised or lowered depending on the water level and your needs.
| Type | Pros | Cons |
| --- | --- | --- |
| Floating($20-$35/sq.ft.) | May be taken out if water freezes Less likely to rotLeast expensive optionMoves with water level | Needs to be put in and taken out each yearMay come loose if not secured properlyMoves when you stand on it |
| Piling($20-$40/sq.ft.) | StationaryDoes not moveMany configurations availableMany decking options | High-maintenanceRequires special equipment to install |
| Pipe($20-$40/sq.ft.) | StationaryDoes not moveMany configurations availableMany decking optionsEasier to install | High-maintenanceDifficult to install |
| Crib($30-$50/sq.ft.) | Very stableLong-lastingStationaryDoes not move | High-maintenanceDifficult to installExpensiveDisrupts water flow |
| Suspension($50-$100/sq.ft.) | LightweightEasy to move with water levelGood for sensitive ecosystems | Very expensiveVery high-maintenance |
Materials
Many different materials go into building a dock. And, the materials you choose vary depending on what type of dock and what type of water you have.
Most stationary docks use at least some form of pressure-treated wood for the pilings or beams. There are some preferred lumbers, such as western red cedar, redwood, Cypress, and eastern white cedar, while crib docks typically need Douglas fir, tamarack, or hemlock. But the important thing is to choose a hardwood that has been pressure-treated to a minimum of 0.60 pcf because anything softer will not hold up to the use. If the water is not fresh, then you need lumber that has been treated to a minimum of 2.5 pcf. This is true regardless of what lumber you use.
This may not be the only component of the dock, however. If you use pipe pilings, you also need PVC pipes at least 12 inches in diameter as well as concrete. Crib docks and floating docks also use concrete in their construction. Floating docks need plastic barrels or drums as well.
Suspension docks usually use aluminum, and modular or movable docks use aluminum for the framework. Some docks may also use it for the decking because it is very low-maintenance. Unfortunately, aluminum becomes hot very quickly in the sun, making this a poor choice for hot climates.
For the decking material, pressure-treated lumber, composites, and modified wood are all options. Plastic-based composites tend to break down quickly in the sun, while some older composites may swell with water. Newer composites hold up well in most docking situations and do not heat up in the sun, which is why most dock kits use composite decking.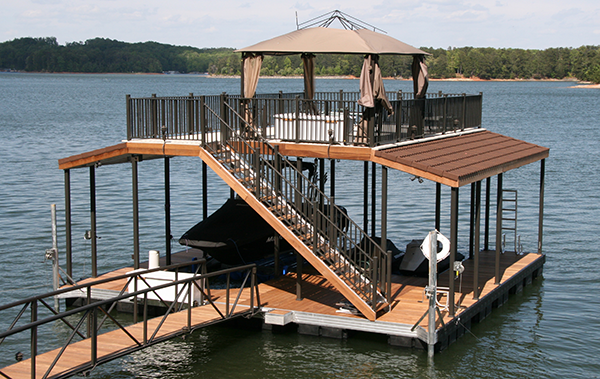 | Material | Use | Average cost |
| --- | --- | --- |
| Cedar, Cypress, Redwood  | DeckingPilingFramework | $4/foot |
| Hemlock, Douglas Fir, Tamarack | PilingFramework | $8-$9/foot |
| Composites | Decking | $8-$30/foot |
| Aluminum | DeckingFramework | $10-$14/foot |
| PVC Pipes | Pipe footings for piling | $30-$40/each |
| Concrete | For securing footings in PVCBuilding a crib dock | $100/cubic yard |
| Barrels/Drums | Holding floating docks | $100-$200/each |
Configuration
The most common configuration for docks is to have the main portion extending straight out over the water, but this is not the only option. In some cases, a narrow walkway can widen out into a larger dock, only to narrow again at the boat slip.
In other cases, if you have multiple boats, it may be beneficial to configure the dock in an F, I, L, T, or H shape so that you can attach boat slips at various spaces. Other configurations may include a patio at one end or a Harbor-style dock that has a walkway running parallel to the water and extending the arms outward.
The key to determining the dock configuration is to figure out how you intend to use it. Fishing, sunbathing, and entertaining may need a wider section, while a dock meant solely for accessing a single boat can be a narrow walkway.
Installation
The installation of a dock varies tremendously depending on the type of dock. A typical piling dock begins with a CAD drawing to determine the size, shape, and load. Next, the water and waterbed are inspected to make sure it can handle the type of dock being considered. The area where the pilings will go is marked, and they are driven deep into the sand beneath the water. This is done with a large machine that pounds the wood until it reaches the correct depth.
Once the pilings are sunk, the rest of the installation is a lot like a deck. A frame is built over the pilings, and the decking material laid on top. This can take several days to complete from start to finish depending on the size of the deck, the materials, and how deep the pilings must be sunk.
Labor
Labor is a large portion of the dock building costs. Many DIY kits and small, modular docks are available for $300 to $1,000, for example, while a custom-built dock costs more than $5,000.
In most cases, the labor portion runs around $20 per square foot, making a 6 x 30-foot dock cost approximately $3,600. This can vary, however, depending on the type of dock and materials used.
Maintenance
The maintenance that your dockneeds varies tremendously based on things like the climate, type of water, type of docking material, and how much use it gets.
At a minimum, you should inspect the dock at the end of each season. Keep it clean, and make any necessary repairs to worn, cracked, or broken areas. If your dock is moveable, removing it from the water at the end of each season helps extend its life.
Enhancement and Improvement Costs
Boathouse
Many boat docks have additional structures nearby including boathouses. To dig a foundation for these structures, factor in an additional $6 per square foot. Also, if you choose to build a boathouse in addition to your dock, this will add between $10,000 and $20,000 to the cost.
Covered Dock
Some docks that are used year-around may benefit from having a covered section to keep the sun and rain off the boat. Typically, covered docks can be built of the same materials as the rest of the dock, although aluminum docks will usually have a stretched canvas top. Expect to add $10,000 to the project for a wooden covered dock.
Boat Lift
A boat lift can help you make more use out of your boat and may even replace a traditional dock. They cost around $6,000.
Lighting
You may want to add lighting to your dock. Expect to pay an electrician $65 to $85 per hour for at least 3 to 4 hours of work.
Additional Considerations and Costs
You need a permit to build a dock. Most docks have regulations they must follow, particularly in sensitive areas, regarding the size, shape, and material of the dock. You need to submit plans before proceeding.
If you need to run electrical wiring to the dock for mooring or lifting, this will cost $6 to $8 perf linear foot, with most electricians charging a minimum of $200.
In areas where the water freezes during the winter, some docks may be damaged by the freeze-thaw cycle. This includes some plastics and pipe docks. Include a winter plan to ensure that your deck winters well.
If you have a very deep body of water, you may need to use a piling or suspension dock instead of a crib dock. It will be difficult to pile up the rock and concrete high enough to support the dock, making this prohibitively expensive and potentially harming the water flow.
If the bottom of the body of water is rocky and has variation in depth from the shoreline to the end of the dock, a suspension or floating dock may be your best bet to avoid extensive drilling for pilings.
Crib docks are best left to the experts who know the water area. If you want to DIY this job, consider a floating dock or a dock kit.
If you choose a wooden dock, check local regulations before proceeding. Some chemicals used in pressure-treated wood cannot be introduced to fresh water.
If you have a house on the water, a dock can increase the value of the property because it provides greater access to the water. The amount varies from state to state and by the type of dock.
Reposted by Scott Freerksen "The Lake Guy"