Are you looking to purchase a new inflatable SUP board? If you are, take a moment to read over our newly updated 2020 best inflatable paddle board list. This list will continue to be updated as new boards hit the market – so be sure to check back often for updates. By SupBoardGuide.
Sadly, the internet is full of false information from people who have not tested any of their top-rated iSUPs (some of them have never even paddle boarded before). Instead, they simply throw up a list of 'top 10 rated inflatable stand up paddle boards' and move on to the next post.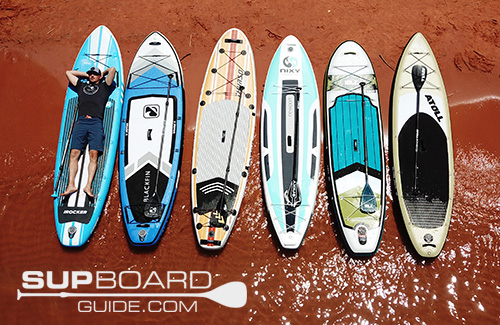 At SupBoardGuide.com, we not only physically test each board we recommend, but we spend hours out on the water and talking with manufacturers and give them advice on how to better improve their boards every year. We are a team of people across the globe, from the USA to Germany to Australia and have one goal – to give you the best inflatable stand up paddle board reviews so you can find the right iSUP for you.
Click here to see The Best Blow Up/Stand Up Paddle Boards of 2020!
Posted by Scott Freerksen "The Lake Guy"