Nothing beats a warm summer day with your furry friend! Wind blowing through your hair with your best friend by your side as you cruise around carefree, what's not to love! Most dogs are instinctive swimmers and love the water… except when it comes to bath time of course! Dogs are an important part of most families and a holiday just isn't a holiday if you leave your first mate at home. Safety is important on a boat and it is especially important if you take your dog along with you. Today's blog post is all about keeping you and your furry friend safe while boating around the lake.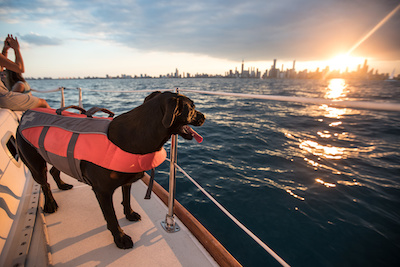 Make sure your dog is comfortable- For younger pups boating may only take a few times before they feel comfortable but for older pups it may take an entire summer. If your dog's fearful or anxious, you'll scare them by dragging them onto the boat or trying to "push through their anxiety." Some tell-tale signs your dog feels anxious are excessive panting, refusal to approach or get on the boat, rigid stillness, excessive yawning, lip licking, and whale eye (where you can see the whites of your dog's eyes when you usually can't). If you force them onto the boat while they aren't comfortable it may result in boat anxiety and try to get off or away from the boat—jumping into the water, refusing to get back on the boat to head back to the dock, or trying to get to land. Remember not all dogs are meant for boating and that is okay! Be patient, follow your dog's lead, and never force your dog to do something they don't enjoy. 
Buy a canine life jacket- Small dogs are most at risk for being thrown from the boat in choppy waters. Even if your dog is a strong swimmer it is best to invest in a canine life jacket. Fatigue can wear even the strongest of swimmers out and cause them to drown. They're durable, last forever, fit dogs well, and they have a secure integrated handle, which makes it easier to pull your dog back into the boat. You'll know it fits if you can get a couple of fingers beneath the strap. Get your dog into the life jacket as soon as you board. If your dog falls overboard, suddenly jumps off the boat, or there is an accident it would be too late to put the float coat on the dog. You might also take along a floating leash especially if your dog doesn't have a good stay or a good recall. Floating leashes are less likely to get caught on something under the water surface, or in a boat propeller
Tips on finding the right canine life jacket-
Fit: Make sure the life jacket fits securely. It's best to check the fit in the store before you buy.
Lifting handles: To make retrieving your pet safer and easier.
Comfort: Check to see where straps and buckles fall to make sure they won't cause your pet any discomfort.
Color: Choose a bright color to make it easier to spot your dog in the water.
Remember to get your pet used to the life vest a few times before going out onto the boat. Also allow your pet to practice swimming with it before setting out on an adventure!
Do not encourage your pet to drink the lake water- Freshwater lakes are often contaminated from factories and boats and contain harmful organisms so never allow your dog to drink water from a lake. Take fresh drinking water with you on your trip and give that to your dog. As the atmosphere out on sea can be hot and dry, your dog is at risk of getting dehydrated so make sure there is ample drinking water available to him at all times.
Bring doggy sunscreen- Just as we need sunscreen to protect ourselves from harmful rays, so do some dogs. Short haired breeds of dogs can get easily sunburned and you should use a light SPF sunscreen such as SPF-15 on your dog. On unusually hot and sunny days a higher SPF factor may be warranted. Make sure you choose a neutrally scented sunscreen so it doesn't irritate your dog's skin.
Practice Stationing Behavior- Regardless of the type of boat you're on, find a spot in which your dog feels comfy and let them know it belongs to him or her. If it's on the deck, position a non-slip mat covered in a towel. Lots of treats can help your dog understand that this is their spot. If you practice "stationing behavior" (having a place to go to) on land, the same cues can transfer to the boat.
Remember to keep your pup safe with their life vest and to make sure they feel comfortable on the boat… but most of all remember to have fun! Your dog will certainly love your new lake home just as much as you, or maybe even more! Being able to boat around with your whole family on board will create lasting memories.
Posted by Scott Freerksen "The Lake Guy"