Winter is coming….
We all know the winter months can bring brutal temperatures and extensive periods of ice cover. As lakefront homeowners, there are a few extra steps you should be taking to ensure the protection of your boat and dock. 
Did you know that when a boat that is encased in ice can suffer extensive structural damage, and the daily radual movements of an ice sheet can splinter a dock into pieces? This can be a great financial loss with the average price of a dock at $15,000! Not to mention the additional cost if your boat or lift gets damaged. Add to this the hassle of applying for new permits and of waiting for a pile driver to become available – often in short supply when ice damage is widespread. Before you know it, you can lose much of the following summer before your boating life gets back on track…
Luckily there are some useful products you may want to consider purchasing to protect your boat and dock against ice damage. There are two common de-icing devices:
Bubbler
A bubbler works by "releasing small air bubbles from a submerged perforated hose(s) powered by an air compressor typically located on your dock or inside a boathouse." The hose releases air bubbles that push up the slightly warmer water from below, creating a space of unfrozen water above the bubbler hose.
Although bubblers can be great for keeping ice from damaging your boat and dock, there are a few things you should keep in mind if you have a semi-permanent dock:
Dock bubblers will not protect against floating ice sheets.
They will not be very effective if the lake levels are low. There should be a minimum clearance of 1-foot from the bubbler's base to the lake bed. This gives it enough room to stir the water and move it while pushing away ice sheets.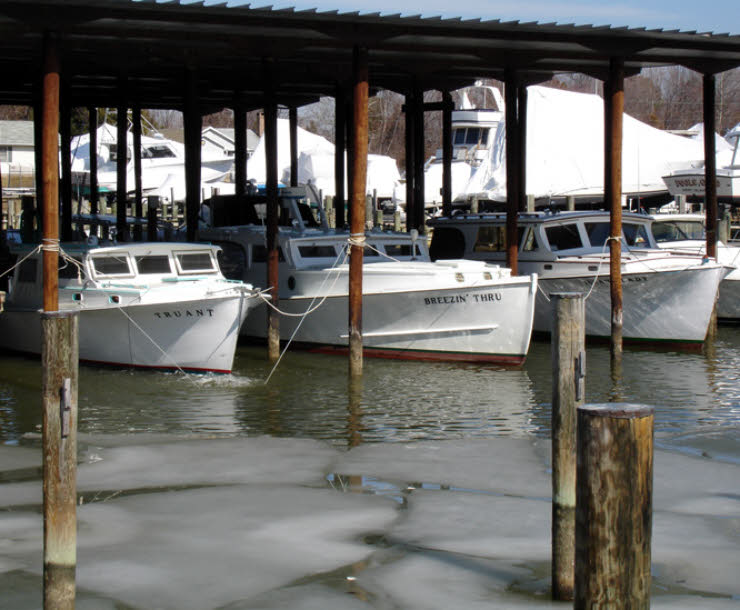 Agitator/Circulator
An Agitator/Circulator works by "circulating the water near the lake bottom toward the surface." They have some adverse effects so bubblers are recommended more. These effects include:
Circulator de-icers can disturb bottom sediments releasing nutrients such as phosphorus, increasing algae
Circulator de-icers are noisy
Higher cost to operate compared to bubblers
What to Know Before Installing De-Icers
While there are many sizes of bubblers on the market, the amount of water it can move typically depends on its horsepower. The more square feet of ice you need to be cleared will determine how much horsepower you need. For reference Kasco Marine Manufacturers guidelines say:
½ hp model keeps a 50-foot area ice-free
¾ hp model keeps a 75-foot area ice-free
There are two costs for keeping ice away from your boat and dock during the winter. The first is the purchase price. The second is the amount of electric energy it will take to power, and these costs vary from lakefront home to lakefront home. 
There are several options for installing bubblers. Suspended operation and universal dock mount are the simplest ones for personal dock bubblers. 
What to Be Aware Of
Some municipalities will require a permit prior to installing de-icers and some may even require signage to be present and visible and must read "Danger, Thin Ice."
You may want to consider purchasing a de-icer with a controller to regulate when it kicks on, this will save energy, money, reduce noise impacts and will help to prevent unintended areas of thin ice or open water.
The lake "rests" in the winter. If not set correctly a De-Icer can stir up sediment reducing water clarity and possibly undermine your dock!
Keep Your Boat & Dock Safe During the Winter
Purchasing a de-icing device is one of the best things you can do to ensure the safety of your boat and dock throughout a harsh winter! It is a worthwhile investment to make sure you are able to enjoy your lakefront property as soon as the ice melts. Just be sure to research what type and size is best for you before purchasing! To see how one New Hampshire lake community deals with dock de-icers, click here.
Posted by Scott Freerksen "The Lake Guy"