Picture this: The sun has just set on another perfect summer day of cruising around the lake. You gather with all of your neighbors, friends, and family to sit around the campfire. You are content and surrounded by golden toasted s'mores, campfire stories, and tons of laughter.
If this sounds like pure joy, you're in luck! Today's post is all about designing a lakeside fire pit to really make your lakefront home the place of your dreams….
Outdoor Lakeside Fire Pit Considerations:
In order to truly enhance your outdoor living space at your lakefront home, one of the biggest considerations you should take is the location of your firepit. The location of the firepit dictates many other features such as design, size, and the types of fuel that are ideal. Considerations when thinking about fire pit ideas include:
Location – local fire codes could affect the location of the fire pit and its proximity to the dwelling structures
Design material — Metal, brick, natural stone, glass
Size — Big enough to enjoy or small enough to fit into your outdoor plans such as seating.
Fuel types — Piped gas, wood, gel, or bottled gas
Usages – Seating, cooking, chimney and smoke flow
Options – Portable or stationary, table top or stand alone, etc.
Safety, Usage, and Convenience:
You also want to consider the safety, usage, and convenience of your lakeside fire pit. Make sure you are working with someone who is familiar with the local fire codes. You will want to place your fire pit away from any trees or shrubs and take into account the wind drift. You will also want to make sure there is ample walking space so no one gets hurt while enjoying a nice campfire. Consider placing your fire pit near the water or in another space that is inviting and easy to enjoy. Also be sure to consider the convenience of your fire pit. You will not want to be lugging wood from a far distance to keep the flames going. Pick a location where you will be able to appreciate your outdoor space all year round.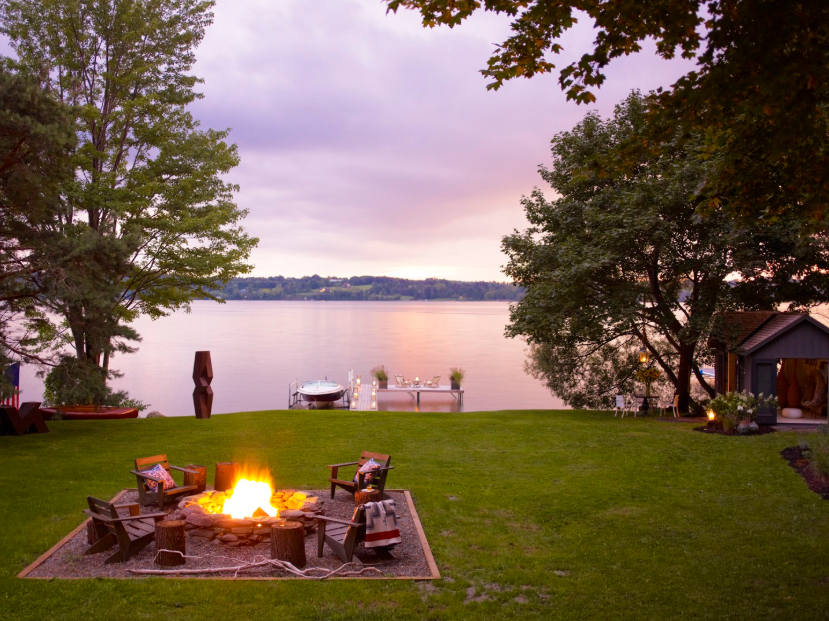 Building Your Fire Pit:
Building your lakeside fire pit does not have to cost a fortune! When picking out materials, your checklist should include: a non-flammable foundation agent, such as sand or gravel; a selection of stones to construct your walls; and steel lining to protect the stone from deterioration caused by the heat of the flames over time.
You will want your fire pit to have a strong foundation. Take time to clear out an area on the lawn with plenty of open vertical space with a shovel. Experts recommend a range of 6″-12″. Don't feel the need to dig in a perfect circle, either. It's better to mark out an area that will give you room to craft your fire pit. You can always fill the earth back in later…
A fire pit has the ability to help keep out the wind and control how the fire burns… Ideally, your walls should rise about 18″ off the ground. This height offers a suitable degree of protection while giving you a comfortable seat for relaxing or tending the fire. The diameter of your fire pit really depends on how big you want it, but most typically range between 36″-44″.
Prefabricated paver blocks are available specifically for fire pits. These blocks are curved to make building your pit simple, and come in a variety of styles to fit your preferences. If you're looking for more of a unique look, there are larger stones and small boulders of all kinds, from earthy quartzite to red lava rocks to sandstone slabs. You'll want to make sure your foundation is carefully laid out and the small and irregular pieces are laid out securely to protect your guests from the hot flames.
Adding Furniture:
Now that the construction of your fire pit is done to complete your lakefront oasis, you'll want to think about the furniture for sitting around the fire. You can always pull over camp chairs or you can look for outdoor seating that offers more comfort.
Enjoy!
You now have the perfect addition to your lakefront property that you can enjoy for years to come! Getting your hands dirty with the construction of your fire pit is totally worth the end result of spending countless nights with friends and family around the flames!
Posted by Scott Freerksen "The Lake Guy"