A lakeside retreat can not only be a place to escape but a spot where you can bring family together. While a view of the water can be relaxing, there's something to be said about enjoying family time from the seat of a hot tub. I mean what can get better then soaking in the hot tub after a long day! Plus having a hot tub with lake views can have some pretty great benefits such as…
Exercise-
Whether you decide to work out in your hot tub or simply sit back and relax, you will be burning calories! In a small 2016 study, participants soaked in a waist-high hot bath for an hour and burned about the same number of calories as a 30-minute walk! But for those who want both a relaxing retreat and an option for exercise, you can configure your hot tub to include a continuous current and shape and size that will even allow you to swim in the center. Imagine being able to swim "laps" right in your own backyard!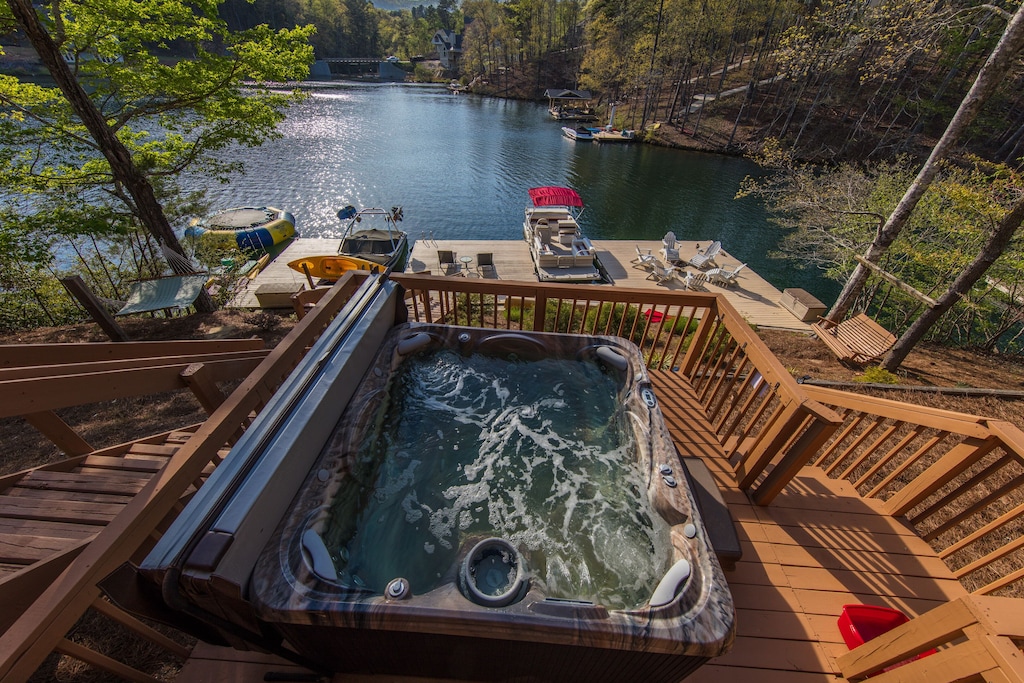 Quality Time With Friends and Family-
Having a hot tub on your lakefront property is a great excuse to get together with friends and family. You won't have to share your hot tub with random strangers…. Whether you prefer to invite your close friends over for a party, you want to hang out with the family, or you want some alone time with that special someone, having a spa at your house makes it easy and fun to spend time with the people you care about most.
Stress Relief-
Daily life can be stressful, but when you get home it's time to unwind and relax! Spas give you the perfect opportunity to soak in warm, healing water and let go of all your stress from work, kids, and more. Plus it's right on your property so it's convenient to use for your own schedule.
Enjoying Nature-
You can sit and soak in your hot tub while also soaking in all that nature has to offer! You can experience the lakeview, sunsets, starry skies, critters and more all from your backyard! There's no better way to enjoy everything your lake home has than from your hot tub.
Pain Relief-
After a long hike around the trails or a day full of watersports on your lakefront property, your muscles can feel tight and achy. There's no need to worry when you have a hot tub to soak in! Hot tubs are great for recharging the body after a long and active day. The heat of a hot tub promotes blood circulation which speeds cell repair and healing. It also soothes tense muscles and joints to combat cramps and muscle fatigue. In addition, the buoyancy of water takes strain and pressure off the body.
Improved Sleep-
According to research, the simple relaxation gained from a soak in the hot tub may be enough to help you drift off into a more peaceful sleep. An older study evaluated passive body heating as a treatment for insomnia in older adults. The study was small and subjective but found that hot baths promoted significantly deeper and more restful sleep. A 2012 study looked at the effects of hydrotherapy on physical function and sleep quality for people with fibromyalgia. It was a small study involving females between the ages of 30 and 65. The researchers concluded that hydrotherapy helped improve sleep quality along with other symptoms of fibromyalgia.
Hot tubs are perfect for everyone and an added bonus to your lakefront property! They offer many bonuses and are a great source of relaxation which we all can't seem to get enough of.
Posted by Scott Freerksen "The Lake Guy"