Now that you have purchased your new lakefront home, you might be thinking about purchasing a boat to fully enjoy everything your property has to offer. Buying a boat is a big purchase and requires lots of research, time, and money. You will definitely want to get the best deal when buying a boat… so you might be wondering when is the best time to buy a boat?
Each season has its own advantages, but understanding the different seasons for boat-buying can help you find a better deal. Whether you are buying in the height of summer or the chill of winter, knowing how the different seasons affect boat sales can improve your overall shopping and purchase experience.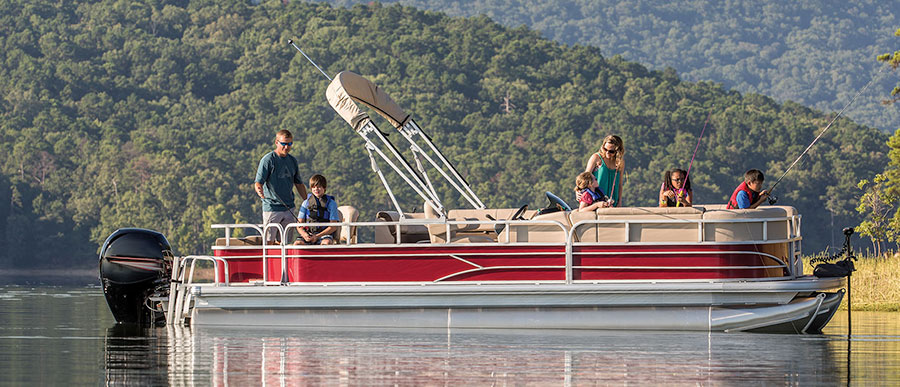 When is the best time to buy a boat?
Well, consider these factors:
Where you live and the boating season in that area.
When new boat models are introduced.
When it's a buyer's market.
When your local boat shows are in town.
The timing of dealer and manufacturer incentives.
When you find the ideal boat.
Spring & Summer-
Spring and summer is generally one of the worst times to buy a boat. These seasons are prime for boating, so more people are out buying a boat, driving demand and, in some cases, increasing prices. Because of increased competition for boats and a large pool of people shopping for their next craft, many people avoid shopping in the spring and summer.
There are also some valid reasons people want to buy a boat during these months. Summer is the perfect boating season, so buying a boat in the spring allows you to prepare everything in time, and buying in the summer allows you to get your new boat in the water right away—as long as you don't mind paying a premium price for the privilege.
Fall-
Many boaters think the fall is the best time to buy from a financial standpoint. The summer has ended and cold temperatures are on the way… meaning demand begins to decline, and dealers often provide incentives for buyers in the form of discounts and deep cuts in pricing. For both new and used models, it is more of a buyers market and you can often find some of the best prices by searching for a boat during the fall.
Also if you buy a boat in the fall, you can use the entire off-season to install equipment and accessories. You can also ensure that there is plenty of time to get the boat ready before starting the next boating season.
Winter (AKA Boat Show Season)-
The winter might seem like an odd time to buy a boat, but many people feel that this is the absolute best time. Why? Because of boat shows! Boat shows bring together a large selection from the most popular manufactures from across the globe, allowing you to explore various models across all ranges of price, size, and style. Exhibitors show off new models and display the latest features, and you can look at many boats from different companies without going from one location to another.
"Boat-show season" usually starts around January and lasts through March, and you can often find great deals at these events. Even dealers in warm climates are trying to sell their year-end inventory, so there is usually a chance for a quality deal even if there is no off-season for boating.
One downside to shopping for incentives is that you may have to be satisfied with what a dealer has in stock, rather than having the flexibility to order a model equipped with exactly the features you need.
THE REAL BEST TIME TO BUY IS WHEN YOU'RE READY!
As is the case with all major purchases, most boat-buying decisions can be emotional, so if you rush into things too much, the reasoning part of your brain may get ignored. You need some emotional desire, or you may never end up buying a boat at all, but always give yourself a little time to put your emotions in greater balance.
The best time to buy is when you have found the perfect boat for your lake home and are ready! So make a plan, research the type of boat you want, meet potential sellers and learn about pricing, and then negotiate the purchase when the time is right. If good, new and used boats remain scarce, your planning will give you the confidence to sign on the dotted line when the right boat shows up. And all the while you are doing your homework, the anticipation of owning the boat and spending time connecting onboard it as a family can be an exciting part of the process. Plan a real party, too, for the day you take delivery, and that will be exactly the right time to buy your boat.
Posted by Scott Freerksen "The Lake Guy"