Attending a winter boat show event is one of the best times to buy a new boat. Manufacturers and dealers want to move last year's models and book sales before the season even starts, so they often offer nice incentives and are ready to negotiate. Not only can you get a great deal, but you also ensure your new vessel will be prepped, equipped and ready on Day 1 of the boating season.
Boat shows are a great opportunity to see a ton of variety of boat dealers and models in one place! A boat show can feel overwhelming if you walk blindly into it, but with a little research and today's blog post… you should be able to smoothly succeed!
Do Your Homework-
Walking into a giant showroom with no plan in mind can make your experience feel frustrating. Before going to the boat show, you must plan ahead…
Narrow Down Your Selection- Before you go to the show it is a good idea to know roughly what you are looking for. Are you looking for a boat for fishing, tubing, lounging, cruising, all of the above?
Knowing how you will use the boat will be a great starting point for shopping all products at the show. That said, be open-minded because you might learn something that changes the picture of your perfect day on the water.
If you know the kind of boating you want to do and the kind of boat you'd like to own, use the Internet to narrow down the brands and models you're most interested in. Then use the show brand directory to find your desired brand and write down its exhibiting dealers and their show locations. It's okay to call a dealer to confirm the model you want will be there.
Understand Your Budget- You need to come up with a budget and stick to it! Talk with dealers at the show about costs of ownership—such as maintenance, off-season storage and winterization, fuel, insurance, taxes and registration. Before you go to the show, getting pre-approved for a loan through your bank or a specialized marine lender can save tons of time.
Plan Your Show Day- Now plot a course through the show with the Interactive show map. Make a list of the brands you're most interested in. You can even do a little research prior to the show to help you narrow down specific models
Boat Show Timing- If you are serious about buying a boat, then timing is key! Boat shows happen between January and March every year. Outside of that timeframe, they're almost non-existent.The availability of products is generally better earlier in the season when dealers are stocked up on boats. Oftentimes, you can walk into the show and order whatever you want or find exactly what you want on the show floor.
Another timing consideration is when you should go to the show… It is recommended that you go on a weekday as opposed to a weekend when there will be a lot more traffic. That way you will have the full attention of the dealers to help guide you with your purchase. You should arrive at the show early and plan to spend a full day.
Boat Show Pricing- One of the biggest perks of a boat show is pricing. Boat shows are a buyers market. Dealers spend a lot of time, effort, and money into hosting these shows so they are focused on putting deals together.
A few other factors play into this thought process. With so many dealers under one roof, competition is strong among the show. They're also more inclined to negotiate which is in the buyer's favor.
Something else that can affect the price of a boat at a show is that some manufacturers might incentivize the show. These incentives can persuade dealer salespeople to be a little more flexible when it comes to price negotiations. Although you will not get a boat for half the price, you will score some great deals at the show.
Build a Relationship With Your Dealer- You go to the show to buy a boat, but it is equally important to build a relationship with your dealer. Talk to the sales team, get to know them by name, and let them know what's most important when it comes to buying for you.
This is a great time to pick their brain about services offered post-sale. They will be an advocate for you when needing service, parts, and accessories so make sure you're also putting in the time and effort to get to know them.
You may also want to ask if they are willing to set up a demo so that you can test drive the boat you buy before taking possession. Most dealers will make a sale contingent on your satisfaction once you drive it if you ask.
Make a Deal- Dealers are looking to make a sale during these boat shows. After establishing a relationship with your dealer, talk to them about additional discounts on the price of the boat or other goodies, such as free off-season storage, free engine maintenance/winterization for a period of years, or a package of accessories. The dealer may offer to store the boat for you until spring.
If you don't find exactly what you are looking for then keep looking and chatting! If a boat model you see at the show is not exactly what you are looking for—maybe you want a different color, certain optional feature or alternate engine package—discuss it with the dealer. They might have just the model you want at the dealership, have one coming from the manufacturer, or can special order for you. While some manufacturer discounts are only good for the duration of the show, most dealers will be flexible to make a sale.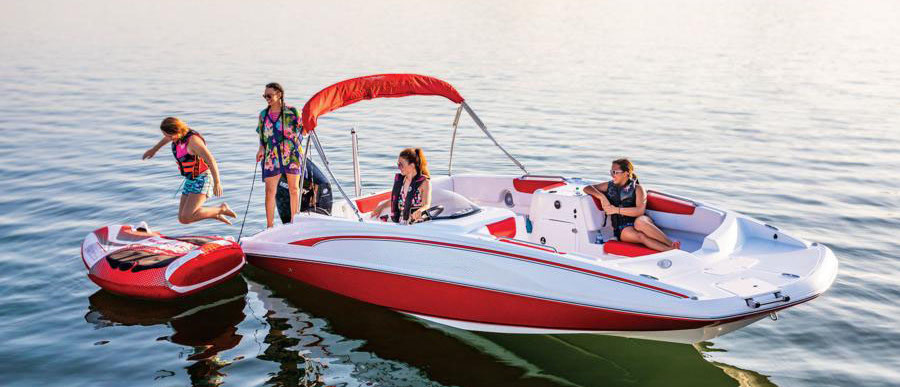 Before You Go- Boat shows are a great way to shop no matter where you're at in the purchase process. It's a no-pressure, family-fun event that can be really educational if you know what you're looking for.
Buying a new lakefront home is a big purchase in itself, so take your time while shopping for a boat. Boat shows are the perfect place to see, touch, feel the boats while staying warm inside and getting a bird's eye view of all the products offered in the industry.
Get a game plan together by knowing what boat will be best for your lake and activities while also staying within a budget. Whether you are just starting to look at different boat types that you may like to explore further, or you're already set on the exact brand you want to buy, boat shows cater to all needs.
Posted by Scott Freerksen "The Lake Guy"