Spending time on the lake floating on a water mat is the best part of summer! Floating water mats allow you to relax in solitude or with family and friends while afloat on the refreshing water.
Being on the water is fantastic fun, and water mats and inflatables make that time at the lake even more enjoyable.
We have reviewed some of the floating water mats on the market and chosen the best four out there.
Intex Giant Inflatable Floating Mat, 114″ X 84″- 4.9/5
The Intex giant floating mat is a generous 7 feet wide and almost 9.5 feet long. Constructed out of 20 gauge vinyl, this pool or floating water mat will withstand a summer of fun on the lake.
For added safety, it features two air chambers and is easy to inflate and quick to deflate.
Made to connect, the Intex water mat comes equipped with Connect 'n Float connectors that will keep several mats close together. Great for keeping your family and friends in the same area.
You can fit up to three people on this floating water mat for the lake.
Key Features:
Large 9.5 X 7-foot surface
4 easy to use connectors to attach other floats
Folds small when not in use
Rubber Dockie Duckling 9×6-Feet Floating Mat, Orange, Green 4.8/5
With a clever name, the Rubber Dockie is not like other water mats, as it is not an inflatable; it is closed cell foam.
This junior member of the family, the Duckling, has a Tuff-Hide Outer Membrane that is easy on a swimmer's skin yet tough enough for everyday use.
The Duckling is bright orange on one side and bright green on the other. These fun colors provide safety and visibility while on the lake.
Key Features:
Includes 12 ft. bungee to tether to dock or stationary object
Tear-stop inner matrix prevents full-length tears
Lightweight for easy transport
Floating Oasis Lake Pad- 4.8/5
When you need a large surface for family and friends, the Floating Oasis fits the bill. This floating mat is a huge 15 feet long and 6 feet wide, making it perfect for the entire family.
The non-toxic, lightweight polyethylene (PE) foam is durable and tear and puncture-resistant. If needed, the floating water mat is easy to clean with soap and water. The colors are fade-resistant, too.
The Floating Oasis includes a sturdy D-ring carabiner and bungee cords for tying off to a dock or pontoon boat while anchored.
Simply roll it up and secure it with the two Velcro straps that make transporting and storing easier.
Key Features:
Holds up to 1,500 lbs.
Has a 100% satisfaction guarantee
It comes in eight different colors
Aqua Lily Pad Original Floating Water Mat- 4.6/5
The Aqua Lily floating water mat is made with FlexCore technology and "no roll" memory, making the water mat lay flatter on the water.
It also makes it lighter in weight as the floating water mat does not absorb water. A large 18 feet long and 6 feet wide, the Aqua Lily will hold up to 1,500 pounds.
The Flex Core and cross-linked polyethylene foam have a ripstop tear-resistant feature to make the water mat less susceptible to rips or tears.
The tether snap system features a heavy-duty nylon spring clip that will not corrode in fresh or saltwater.
Key Features:
"No-roll" memory
Holds up to 10 adults or 1,500 lbs.
Patented UV protects the surface from sun damage
The Benefits Of Floating Water Mats
A floating lake mat is a very convenient way to enhance your enjoyment on the water. It is great fun for family and friends to jump off or rest on. The kids, especially, love floating mats
Water mats are constructed of durable closed-cell foam. They are also made to be tear-resistant. With a quality water mat, your fun does not end if there is a puncture as it would with an inflatable.
If you have family and friends that visit the lake, water mats can expand the area you have on a pontoon boat, the dock, or any other stationary object.
You can use them as launch points for smaller watercraft like a kayak or canoe.
Floating Water Mat Buying Guide
There are usually two types of water mats that you can get for the lake. There are inflatable and non-inflatable options. The main difference between the two is obvious; one requires inflation, and the other does not.
The floating water mat for lakes tends to be much simpler and easier to care for.
Water mats don't require a pump or to be inflated or deflated. Water mats also will not spring a leak, unlike inflatables can.
Choose Water Mats For Lakes With Connections
If you choose a water mat, look for a mat that has connectors. The connectors enable you to keep your mat secured to a dock or stationary boat.
This keeps the mat from floating off when you don't want it to. Some mats have grommets, which are especially helpful when in larger bodies of water as they tend to be sturdier.
When you have connectors, you can create a larger lounge area to enjoy. Some people choose to use connected mats to make walkways between boats or docks.
Decide On The Capacity You Need For A Floating Water Mat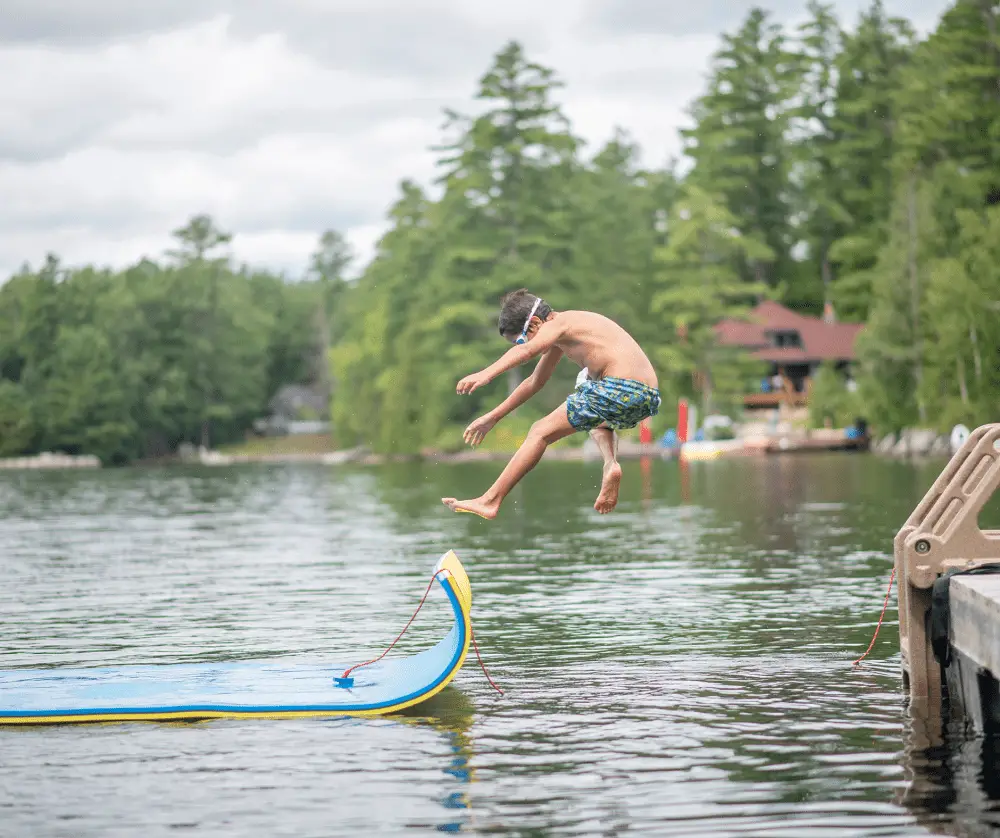 Floating water mats come in different sizes that vary quite a bit. The large ones run about 18 feet long and 7 feet wide. The next size is usually 9 feet long and 6 feet wide.
There are also individual mats about three or four feet long and two feet wide, which are especially nice for the kiddos who want their own floating mat.
Check out the weight capacity for the mat that you choose. While the mat might say that it holds 10 people, the weight capacity is important.
If the weight capacity of the water mat is 1,500 lbs., that means that all 10 people need to weigh 150 lbs or less.
So if your friends are all basketball players over six feet and 200 lbs., you know that you will need more than one mat.
Consider Portability And Storage Of Your Floating Water Mat
If you live on the lake, leaving your water mat in the lake is an easy proposition over the summer.
If you have lake access and have to transport your water mat, you need to take the size and weight of the rolled mat into consideration.
When you roll the mat for transport, will it fit in your car or your boat? Is it easy to carry, or does the weight mean you will need help getting it to the water?
Will you need help rolling it up, or can you do it yourself? Lastly, do you have the place to store the floating mat when not in use or over the winter season?
Make sure to decide on which mat will work best for you for both transport and storage.
Safety Tips For Using A Water Mat
Do not ever leave children to play in the water or on a water mat unsupervised
Do not use a water mat if the water is rough or choppy
Keeping your water mat clean will keep the mat from being slippery
Make sure to check the security of the connectors on the mat regularly
Read the owner's manual that comes with the mat for safety instructions
Limit alcohol consumption when using the water mat
Keep the mat secured to a dock or stationary boat
In Conclusion
A floating water mat at the lake is one of the most fun and enjoyable devices to have to enjoy your new lakefront home. All ages can use them, and they give you and your guests a place to relax on the water.
Reposted from Lake Living Guide
Posted by Scott Freerksen "The Lake Guy"