Have you ever been at a backyard cookout where the host keeps dropping his grill tongs and popping inside for a quick update of the game on TV? An outdoor TV would solve his dilemma, and probably be a welcome distraction for guests, as well.
Outdoor TVs make an excellent addition to a backyard, patio, or deck area at your lakefront home. They are specially designed from the inside out to be permanently installed outdoors.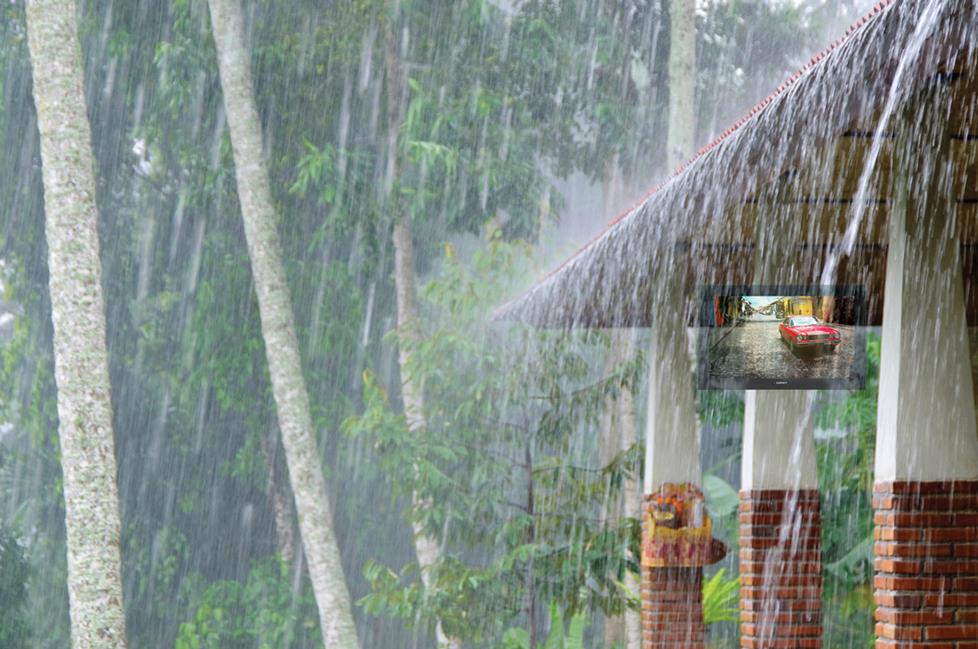 SunBriteTV's outdoor TVs are designed to live outside year round, in all types of weather.
Regular TVs are no match for the great outdoors
It's a really bad idea to install an ordinary TV outside — even if the TV is sheltered by a patio roof. You still need to worry about temperature extremes, and humidity, which can cause condensation inside the TV. (Moisture and electronics don't mix.)
Wind can still blow in rain, snow and dust. If you live near the sea, salt air will quickly damage a TV inside and out. And this may not have occurred to you, but insects can get inside the TV and even set up housekeeping in there.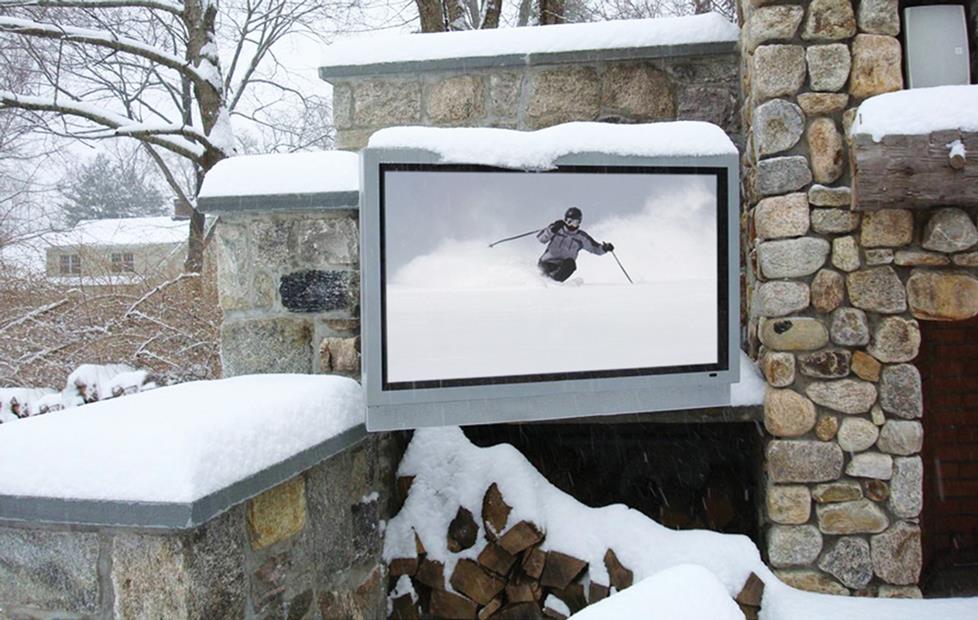 Sunbrite TVs have built-in heaters that allow them to perform in cold weather.
Fact is, using a standard TV outdoors will almost always void the manufacturer's warranty. Here are three other reasons not to put an indoor TV outside:
1. Picture Quality
Regular TVs aren't designed to be viewed in the bright outdoors. Brightness is measured in "nits," and indoor TVs produce peak brightness of around 350-450 nits. Outdoor TVs can get much brighter, with typical ratings in the 600-700 nit range.
2. Dependability/Lifespan
Regular TVs are designed for use in climate-controlled indoor spaces. SunBriteTV's weatherproof outdoor TVs use a multi-fan airflow system to keep the TV's interior cool and dry in temperatures up to 120°F. They also feature thermostatically controlled internal heaters that protect the TV when the mercury drops — even down to -24°F. These sets are also designed to control humidity and condensation.
3. Safety
Using an indoor TV outside can be risky. Indoor TVs pose a risk of electrical hazard if used in a wet outdoor environment. All-weather outdoor TVs are designed for safe operation, even when permanently installed outdoors. And their power cords are rated for outdoor use.
SunBriteTV outdoor TVs feature a powder-coated, rust-proof aluminum exterior that seals the internal components against the elements. A water-tight cable entry system on the back panel seals out moisture and allows for easy hookup. The HDMI inputs and other connectors are nestled in a sealed compartment.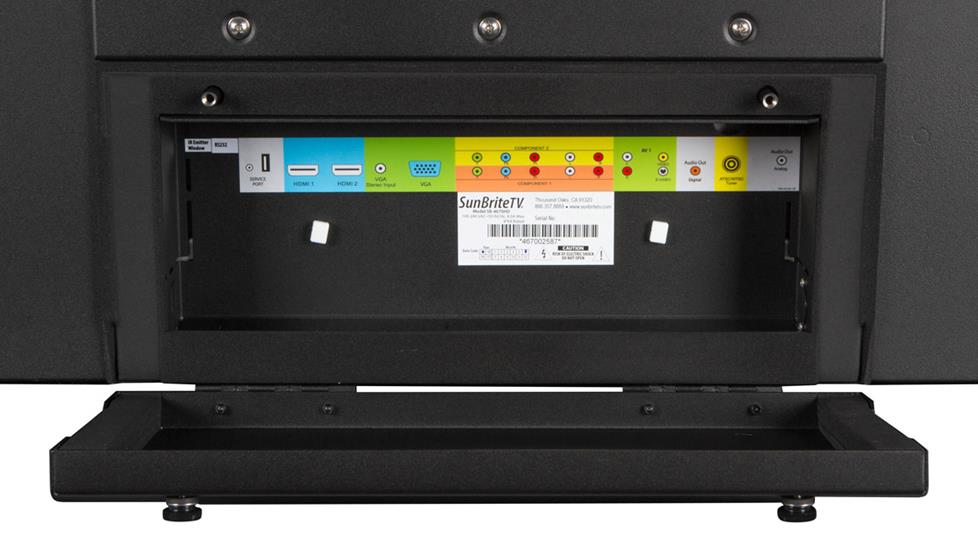 A water-tight cable entry system on the TV's back panel seals out moisture and allows for easy hookup.
Outdoor TV installation
One way to make the most of your outdoor viewing is to place your TV in the best lakeside location. If possible, pick a spot that is protected from the elements and doesn't get a lot of direct sunlight. If that's not possible, try to place your TV with the screen facing north, so the sun is always behind it. That should ensure optimal daytime viewing.
SunBriteTV's Veranda Series all-weather 4K TVs are designed for shaded outdoor living spaces, like a covered patio, garage, covered deck, or screened porch.
SunBriteTV's Pro Series models are even more ruggedly built, with extra-bright, direct-sunlight-readable screens. They're an ideal solution if the TV screen will be exposed to direct sunlight.
In most situations, HD resolution delivers plenty of clarity and detail for outdoor viewing. But SunBriteTV did introduce some 4K Ultra HD models in 2017.
How to mount an outdoor TV
At SunBriteTV's website you'll find an excellent collection of how-to videos on installing an outdoor TV.
Just like the TV, an outdoor TV mount should be designed and rated for outside use. A regular mount meant for inside use can quickly rust when exposed to the elements. Plus, sturdy outdoor mounts are made to handle the weight of outdoor displays, which are typically heavier than regular flat-screen TVs.
Consider getting full-motion mount. This provides a wider viewing range than a fixed mount. It means your audience won't be limited to one viewing area, and you'll be able to tilt/swivel the TV toward the patio, pool, fire pit, or wherever folks are gathering.
Try to plan your outdoor TV installation in advance. Make sure you have power where you need it. And make sure you can connect all your sources, and that you're using cables that are rated for outdoor use.
Ways to connect and control your video sources
There are several ways to send audio and video to an outdoor TV. Usually, the video source — cable box, satellite receiver, Blu-ray player or media streamer — is located inside the house or another weather-protected space near the TV, like a garage.
Certainly the easiest way to get signals to your outdoor TV is wirelessly. You'll probably want to feed HD signals to your outdoor TV, and there are a handful of wireless HDMI systems that can send full HD 1080p signals, but only one is designed for use with outdoor TVs: SunBriteTV's Wireless HD Transceiver. The transmitter unit goes indoors near your video source, while the weatherproof receiver unit goes near your outdoor TV.
If you prefer to run wires, HDMI is the best high-def cabling option. It carries high-quality video and audio over a single cable. For distances up to 10 meters (33 feet), you can use a "high speed" HDMI cable — just be sure it's rated for in-wall use.
For longer lengths, we recommend Celerity Technologies' fiber optic HDMI cables. Celerity cables are thin and flexible so you can easily run them along baseboards, and install them in conduit, plenum spaces, and cabling raceways. The cables draw their power from the source and display connections, so no separate AC power is required.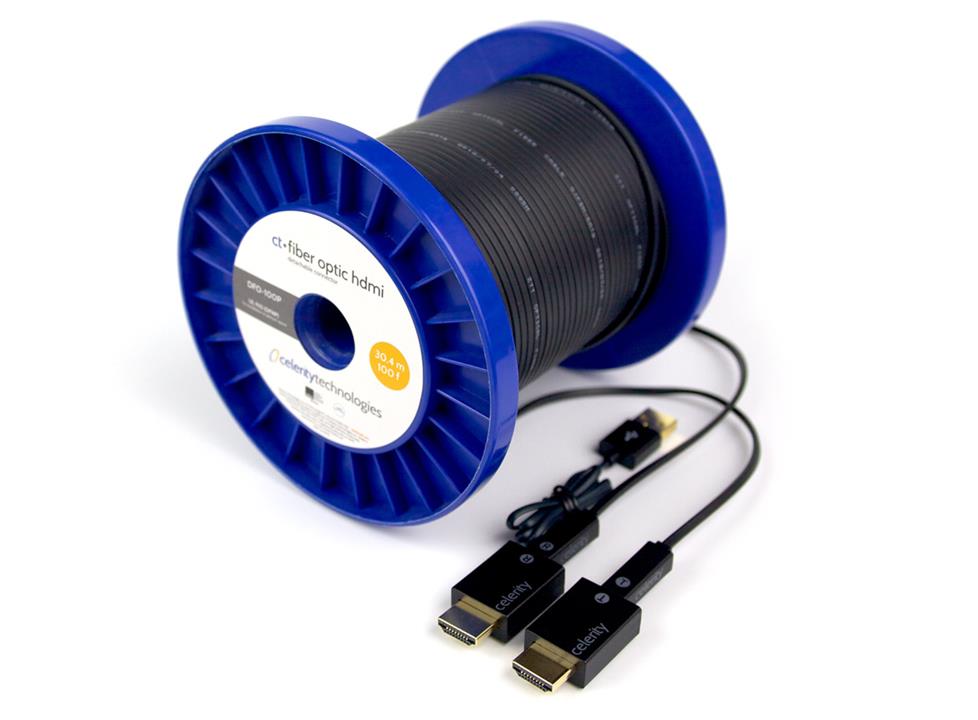 Celerity's fiber optic HDMI cables are a great way to deliver TV signals to outdoor TVs.
If your home's Wi-Fi network extends to your backyard or patio, you may be able to stream content wirelessly to your outdoor TV. None of our current lineup of SunBrite TVs are smart TVs, but you should be able to use one of the compact Wi-Fi streamers, like Google's Chromecast, Roku's Streaming Stick, or Amazon's Kindle Fire Stick.
If your Wi-Fi network doesn't currently cover your planned outdoor viewing area, it might be time to upgrade to a high-performance Wi-Fi router or Wi-Fi range extender.
If your home theater receiver supports multi-room video connections, you can feed it's Zone 2 video to your outdoor TV. Then you view the same video sources that are connected to your receiver. Learn more by reading our multi-room video article.
What about sound?
Many outdoor TVs sound a lot better than regular indoor TVs. That's because these outdoor models include a removable external speaker bar that plays more loudly and clearly than most TVs. A good sound bar could be a significant sonic upgrade, but few models are designed for outdoor use.
Article and photo credit to Crutchfield's Steve Kindlg.
Re-posted by Scott Freerksen "The Lake Guy"