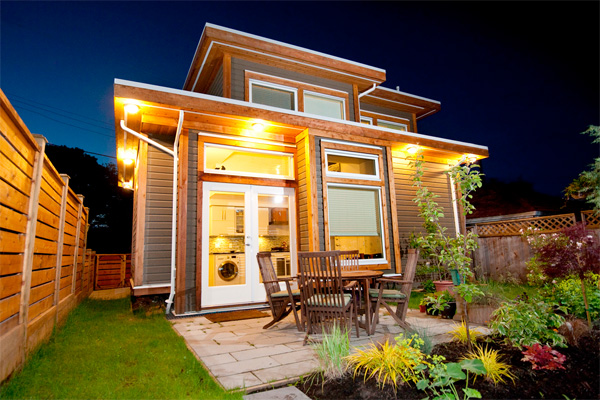 Is it just a popular misconception that retirees downsize to smaller homes? While some certainly do, recent research from the National Association of Realtors shows that the median square footage of a home purchased by people 55 to 64 is 2,200 — actually 100 square feet larger than the house they just sold.
Even folks 65 to 74 years old only downsize by a measly median 100 square feet from 2,000 to 1,900 square feet, the report showed.
But will the economic realities facing the current crop of midlifers as they inch closer to retirement change all that, and give a jolt to a more extreme version of downsizing: the tiny house movement? While tiny homes remain a niche market, interest is on the rise, said Steven Harrell, the 34-year-old founder of the Tiny House Listings website. Traffic to the website has increased by 1,500 percent in the past year, and he gets about 100 emails a day from people with questions about small-space living, he said.
Tiny home sales, perhaps like the tiny homes themselves, are too small to count, said NAR. Home sales in the 300-square-foot range are "an immeasurably small market share," said NAR spokesman Walter Molony. Sales of tiny homes are just a fraction of a percentage point and NAR barely counts them. The 2011 NAR Profile of Home Buyers and Sellers shows only 1 percent of buyers purchased a home of 1,000 square feet or less.
Still, there is something intriguing about extreme downsizing, and it goes beyond just figuring out which single pair of shoes to keep. Harrell sings praises about small space living and the freedom it brings. "Living in a tiny house can be the difference between being a retiree or not even having the option of retiring," he added. Tiny homes come with much smaller pricetags, smaller monthly bills and less maintenance, said Harrell, and that translates into "more time to enjoy more important things — like retirement."
Harrell, who runs the website from a 90-square-foot tiny office in Wilmington, North Carolina, became debt-free in 2008 and was determined to stay that way. For him, living mortgage-free in a small home opens the doors for living a larger, more meaningful life.
Even if retirees themselves aren't quite ready to live in a shoebox, many midlifers are installing kit-built tiny houses on their property as living space for aging relatives. These homes, including materials and plans, range in cost from less than $20,000 to upward of $50,000. Jay Shafer, who founded the Tumbleweed Tiny House Company 12 years ago, said despite the recession, business has been growing every year. While his customers come from many demographics, midlifers see various uses for his units. Some use them to house an aging relative on their property, others use them as a home office or guest house for returning adult children. And yes, a few eye them for their own retirement home, he said.
Original Post: The Huffington Post – By Ann Brenoff
Posted By Scott Freerksen "The Lake Guy"