When you're looking for the right decking for your boat dock, then the pursuit is really quite the same. The important thing to keep in mind is that there is no "one-kind-fits-all" solution for dock decking and planking. The solution depends on what your needs are for your project… For example what if you need a budget-friendly dock or maybe you're more concerned about upkeep and maintenance overtime?
Today's post will hopefully give you some clarity when choosing the best decking material for your dock! Here lies a list of 3 best decking options that will help when it comes down to decision time…
Pressure Treated Wood:
The use of pressure treated wood decking for boat docks and marinas is a very traditional choice. It's classic in appearance and provides a rich wood grain that compliments every nautical setting. Pressure treated wood is also one of the most cost effective options when building a dock. Plus wood dock planking is easy to work with and doesn't require any special equipment that contractors wouldn't normally have, keeping labor costs to a very manageable rate.
The important thing to keep in mind about pressure treated wood is that it does require some upkeep to maximize the life of your dock. Power washing as needed is recommended, as well as staining or sealing every few years. Another thing to note is that not all pressure treated wood dock planks are created equal. There are many different wood species, grades and profiles that can make a rather big impact on the overall quality of your dock.
Composite Dock Decking:
Composite decking is a great option for dock owners looking for something maintenance free so you can enjoy your life on the lake instead of keeping up with house chores. Composite decking comes in many different colors that are often fade-resistant, and doesn't require any staining or sealing throughout its lifetime. Many composite decking options are backed with a manufacturer's warranty, giving you peace of mind that your dock will be built to withstand the harsh conditions that waterfront properties are often subjected to.
Keep in mind that composite decking is not the cheapest option. The price of materials runs a little bit higher than pressure treated wood so do not choose this if you want to keep the costs as minimal as possible. Composite decking can be installed just as easily as wood so there would not be an increase in labor costs. Also composite decking is known to get hotter under the sun compared to wood, so choosing a composite that is designed to keep cool is best.
Modified Wood Dock Decking: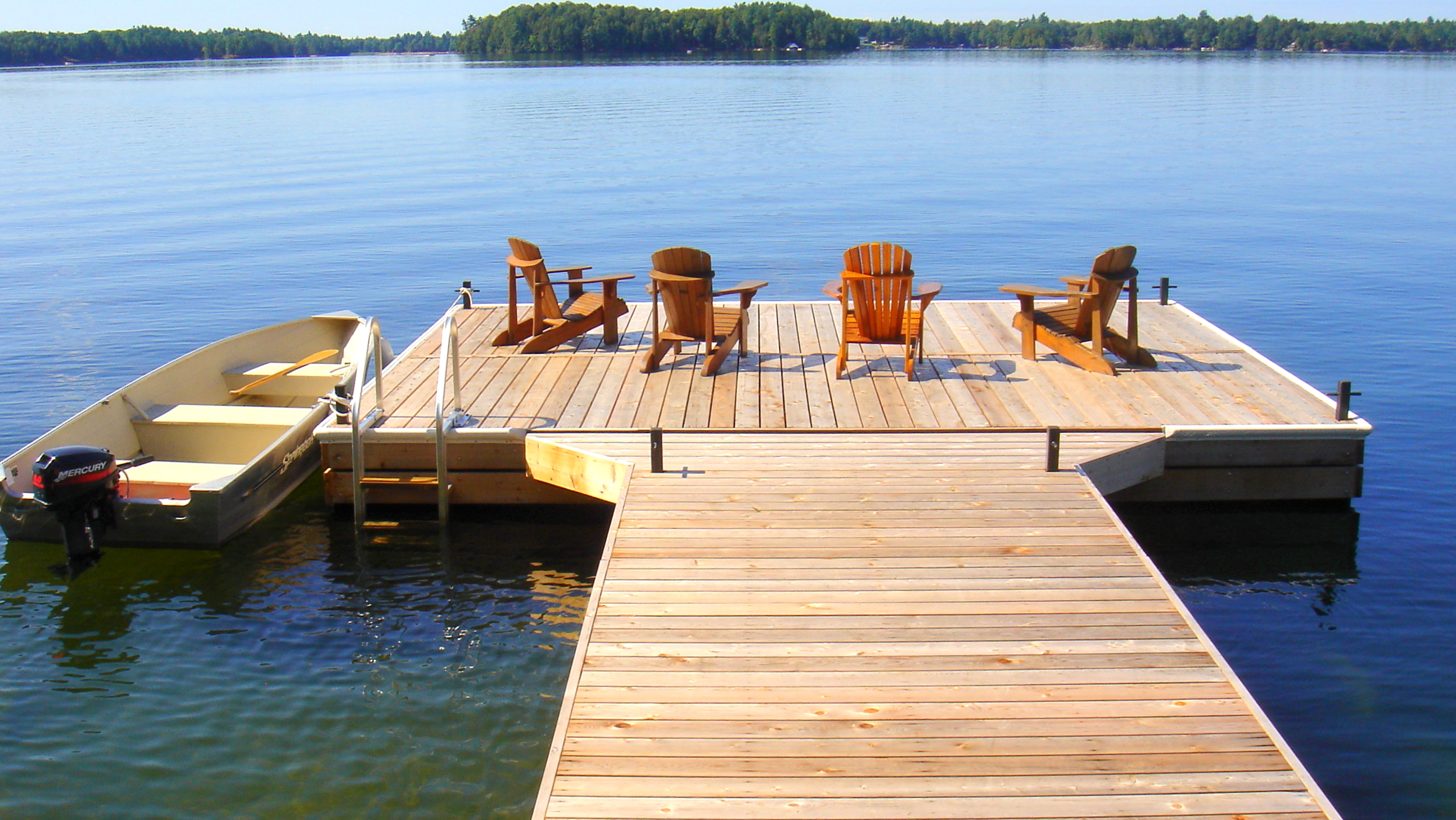 Modified wood is the ultimate eco-friendly option that doesn't force you to compromise on having the beauty of a real natural wood dock. Modified wood permanently transforms sustainable wood species, like pine, altering the cellular structure and making it perform like durable tropical hardwood. Modified wood can be left natural, without any need of staining or sealing like there is with pressure treated wood, and will weather to a graceful silver/gray patina over time. It is incredibly durable and a great option for eco-conscious wood lovers.
One thing to keep in mind is the costs associated with this feat in technology. If you're on a tight budget it is probably not the best option. Modified wood is extremely durable and requires no maintenance, so in the larger picture the lifecycle costs remain low.
What better way to enjoy your new lakefront home than to add on a dock? Picture yourself enjoying your morning cup of coffee, the kids jumping off the end to swim, having a place to park your boat, and enjoying the sunset… It completes the dream of lakefront living! Hopefully today's choice helped narrow down what building material would be best to fit your needs. Remember choosing the right decking for your dock should be something done with thought and attention to your own lifestyle.
Posted by Scott Freerksen "The Lake Guy"