The Right Fit For You
While most boats are built for a specific reason, today's manufacturers struggle to build boats that meet their assignment and provide family-friendly features. Here we detail the pros and cons of different boat types and how you can get the most out of your boat and enjoy your boat every summer. By Marinemax.com.

Center Consoles
Center console boats are generally designed for fishing. By placing the operating console in the center of the boat the cockpit extends to the bow and moving about while fishing is easier. Pure center console boats have very little seating that may obstruct fish fighting. Forward seating has become a standard on many manufacturers models and in most cases, there is storage that can be used as a fish box or cooler. While fishing, the forward seating cushions can be stowed, and the anti-skid surface of the seat serves as a forward fishing platform. This is the most comfortable place to ride on the way to the bite due to the fact that is near the outboard(s). Behind the helm is usually a leaning post form of seating. Most center console boats that are larger than 20-feet in length have an operational head inside the center console. Either a Porta Potti or flushing type of head. Most center console boats are equipped with fishing features such as outriggers, hardtops, and rocket launcher-style rod holders. The center console boat category continues to grow as the popularity increases. Larger center console boats, 35-feet and more, frequently have full cabins within the console and under the deck areas with a galley, head, and berths. These boats are built well for offshore conditions.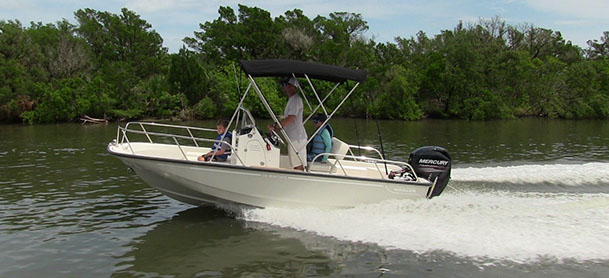 Shallow Draft Boats
These specially built boats serve only one purpose, to get into the very shallow water to fish inshore. Designed to be polled, they frequently have a polling platform over the outboard motor and a fishing platform that helps with sight fishing. Their hulls are designed to reduce water slapping against the bottom while polling. This helps make them stealthier for the easily spooked fish being targeted. They tend to be relatively inexpensive. 
Sport Boats
Sport boats are dual console boats with a walk-through windshield designed with sporty performance. They can be inboard sterndrive powered or outboard powered. Due to the design and performance, they are not considered open water boats. Sport boats tend to be relatively inexpensive. Most modern sport boats provide adequate performance for many of the popular tow sports. Sport boats make great social platforms for day boating with family and friends.
Pontoon Boats
Once considered a "poor man's yacht," today's pontoon boats range from simple to well equipped. They have upholstered furniture to accommodate large groups. With the increased horsepower and multiple outboards, modern pontoon boats can be very fast and turn relatively flat making cruising exhilarating and relatively safe. This is one of the best and most popular choices for your lakefront home. The subcategory, tri-toon boats add a middle cylinder to the hull with lifting strakes which make them even faster. One of the leading pontoon manufacturers, Harris, offers pontoons from a simple to own and operate 18-foot model to a super luxurious 29-foot model that can have a pop-up head, grill, wet bar or just about anything else an owner would desire. Many families use their pontoon boats to camp out in parks or visit marinas with hotel facilities. The relatively large number of passengers, the stability of the ride and at rest, as well as the pet friendliness, add to the social nature of a pontoon boat and its increasing popularity. The price of a new pontoon can be comparatively low or surprisingly expensive as they move up in luxury features.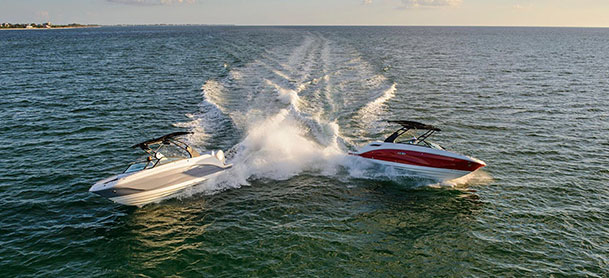 Deck Boats
Deck boats are similar to pontoon boats they vary from being a deck with furniture and gates to resembling a sport boat with an extra-wide beam at the bow. To gain the stability of a pontoon, deck boat manufacturers employ fiberglass hulls with sponsons, which keep the boat flat. Deck boats tend to be relatively inexpensive.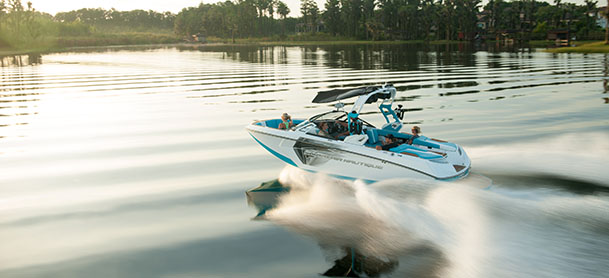 Wake Boats
Wake boats are some of the most specialized and most expensive boats on the market. These boats have many systems unique to the category that allows the boat to produce different wakes. The increasing popularity of wake-surfing all over the world has driven manufacturers to develop wave shaping hulls with ballast tanks and transom gates. Today's wake boats have electronic control systems that can be pre-set for specific speeds and wave shapes for all types of tow sports. 

Cabin Cruisers
The cabin cruiser category was once the mainstay for families who love to boat. Today, families seem to be favoring day boats which are larger sport boats without commodious below deck accommodations. Cabin cruisers land between the sport boat category and the full yacht category similar to the Sea Ray L Series. They offer below deck berths, heads, and a galley. They are primarily designed for families who like to travel on their boat. Most often they have inboard motors and are either stern drive propulsion or shaft driven. Although in the past stern drives were not considered saltwater compatible, today's stern drive systems have proven capable of being well maintained in saltwater. Due to the size of cabin cruisers, they are most likely to be left in the water, requiring slip fees. New cabin cruisers can be expensive and costly to maintain. However, many families enjoy the lifestyle of spending days and nights on their boats and being able to travel to exciting destinations.
View Original Article here.
Re-posted by Scott Freerksen "The Lake Guy"