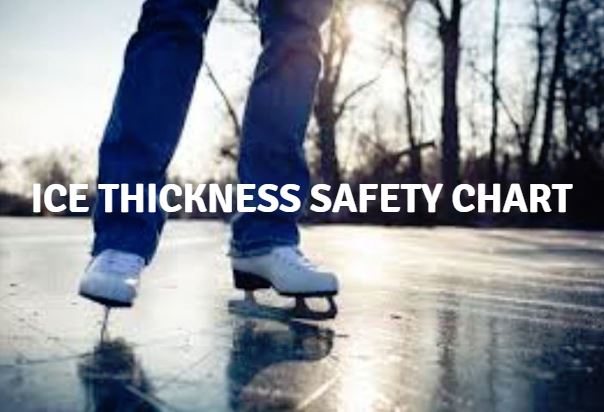 Keep your family and friends safe this winter! Print out and post this ice thickness safety chart at your lakefront property for everyone to see. By www.Ameriprise.com.
Ice safety tips for walking, fishing, driving and more
Check the ice thickness before you go on it.
Four inches is the minimum ice thickness for walking.
Always go with a buddy.
Ice safety before you head outside
Get an ice update. Contact your state's Department of Natural Resources or a local bait shop for the latest ice reports. Then, compare them to an ice thickness chart.
Pack a pair of ice picks. Attach these to a long cord. Screwdrivers work, too. If you fall into the water, you can pull yourself out using the picks. Tip: Use a wood-handled ice pick. If it falls into the water, it will not sink as quickly as a metal-handled pick.
Bring a life jacket. If you break through while walking on ice, a life jacket can provide flotation and protection against hypothermia. Do not wear a flotation device when traveling in an enclosed vehicle.
Wear brightly-colored clothing. Bright colors make you easier to spot against the white snow and ice.
Tips while you're on the ice
Walk with a buddy. Stay several feet apart. If one person falls into the water, the other can call for help.
Test ice thickness every 150 feet. Ice thickness can vary dramatically, even in small areas. Test the ice thickness frequently to avoid thin ice.
Be prepared to bail. When driving on the ice, have an escape plan. Unbuckle your seat belt and roll down your window all the way for an easier escape.
Park vehicles a safe distance apart. Vehicles should be parked at least 50 feet apart. Drill a hole near each vehicle. If water starts to flow from the hole, vehicles should be moved because it means the ice is sinking.
Move vehicles every two hours. Moving vehicles helps to prevent undue stress on the ice.
Check for ice aeration. Ice aeration systems keep areas of water open to provide oxygen for fish. Aeration can weaken the ice strength far beyond just the aeration location.
Re-posted by Scott Freerksen "The Lake Guy"