Cooking aboard your boat on the lake is much different from preparing a meal in your chefs kitchen… Space is small and water, propane, and electricity may be limited.
Here are some tips for cooking on your lake boat…

Plan Ahead- Whether you're heading out for an afternoon cocktail party or a two-week offshore voyage, it's important to think through and write down your meal plan ahead of time. A boat away from the dock means you can't just run to the store to pick up forgotten items. Also, you'll need to check how much space you have to stow the provisions, especially if they need to be refrigerated.
Written menus will help you incorporate leftovers from one meal into parts of another, thereby saving time, space and ingredients.
If multiple people will be cooking, it's best to have a point person who puts together a list of what to purchase or there will be too much to bring aboard, stow and left over.
On a long trip, use up food that will spoil quickly (like lettuce and tomatoes) leaving longer lasting items (like cabbage and potatoes) to be used later.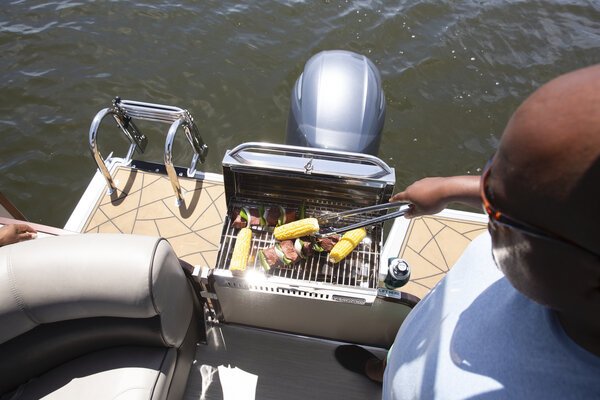 Meal Prep- You can make more complex meals at your home and freeze them to use on the boat. Stews, pasta dishes and even desserts can be made at the house. This rescues the cook from extended time in the galley, saves water on doing dishes and limits the number necessary of separate ingredients like spices.
Frozen meals help immensely on a passage when it's too rough to cook but the crew still needs a hot meal. Even chopping vegetables and cutting cheese for happy hour can be done ahead so nobody misses any fun on deck.
Use Space Wisely- Boat kitchens are typically small. Now is not the time for a 7-piece cookware set. Only bring the kitchen tools you absolutely need. You most likely will not need more than: 1 skillet, 1 pot, plus only enough cups, plates, bowls, and silverware for each person on board to have a set.
Also…
Try moving the cutting board to the dining table inside or in the cockpit and have the prep cook safely seated and out of the way of the chef.
Do the dishes as you cook because boat sinks don't hold much.
Cook in steps because multiple large pots and small boat stoves aren't compatible. You can quickly reheat before serving.
Get all your ingredients out of the refrigerator together or in batches. The more you open the fridge, the more house battery power it will take to make it cold again.
When packing the refrigerator, put items you'll use first on top and combine items like lunch meats or yogurt containers in a bag so individual items don't disappear to the bottom of a top- loading icebox.
Safety First- Be sure when you are cooking to be docked or fully anchored. Safety latches, railings, and strategically placed handles can help to keep you and your equipment safe and in place while on the water.
Before heading out on the water, make sure you have a well-stocked first aid kit and that your fire extinguisher is in working order. These are especially important if any cooking is being planned on the boat. Also, make sure that everyone on board knows what to do in an emergency and how to use the VHF radio to call for help.
There is nothing like boating all day and enjoying a freshly cooked meal from your boat on your new lakefront property. It is a great way to unwind and spend time with friends and family. Adjust your expectations for a gourmet meal and keep it simple, that way both you and your guests will be happy!
Posted by Scott Freerksen "The Lake Guy"