If you have spent any time on a family or friends boat, or enjoyed a rental, you may have decided that you want a boat of your own at your new lakefront home. But what type of boat should you buy? What would you use it for? What's a best fit for you and your family? Where would you store it when you're not using it? And of course, what may be the toughest question: how much boat can you afford? Getting organized and proactively answering these kinds of questions before you buy is the best way to limit uncertainty and successfully move forward in the boat buying process.
Before your big purchase, you will want to learn about the upfront costs, annual maintenance, storage and usage costs. Getting this information together will help you stay within your budget and have some amazing days out on the lake!
Upfront Costs- Before buying a boat you will need to consider the upfront costs…
The first step is figuring out what type of boat is going to fit your lake lifestyle. You might want a fishing boat, or a bowrider for family fun. Perhaps a cabin cruiser that could house your family overnight for extended trips, or a specialty craft like a pontoon boat for family parties or a ski/wake boat for watersports.
Once you've identified your favorite activities, calculating how much you want to spend is the next step. How much boat can you afford? Using that number, you can decide how to formulate your boating purchase. If you're financing the purchase, remember that your credit rating will factor into your purchase; since this is a discretionary purchase, don't tie up needed cost-of-living funds in your boat.
Buying a new vs. pre-owned boat will have differences in the upfront costs as well.
Boat Insurance- You'll need at least liability coverage, and likely damage coverage—especially if it's a newer vessel. Often lenders will require comprehensive coverage on a financed purchase. It's smart money in the long run, in case of accident or theft—your boat is covered!
Storage Options & Costs- You may want a cover, a top, or maybe even consider renting inside storage if you can't keep the boat at your home or on your property. Summer and winter storage are two very different necessities in parts of the country where the climate is colder. Winter storage in colder climes typically involves winterization prep for engine and boat, as well as durable coverage where snow, rain and winter winds have potential for damage.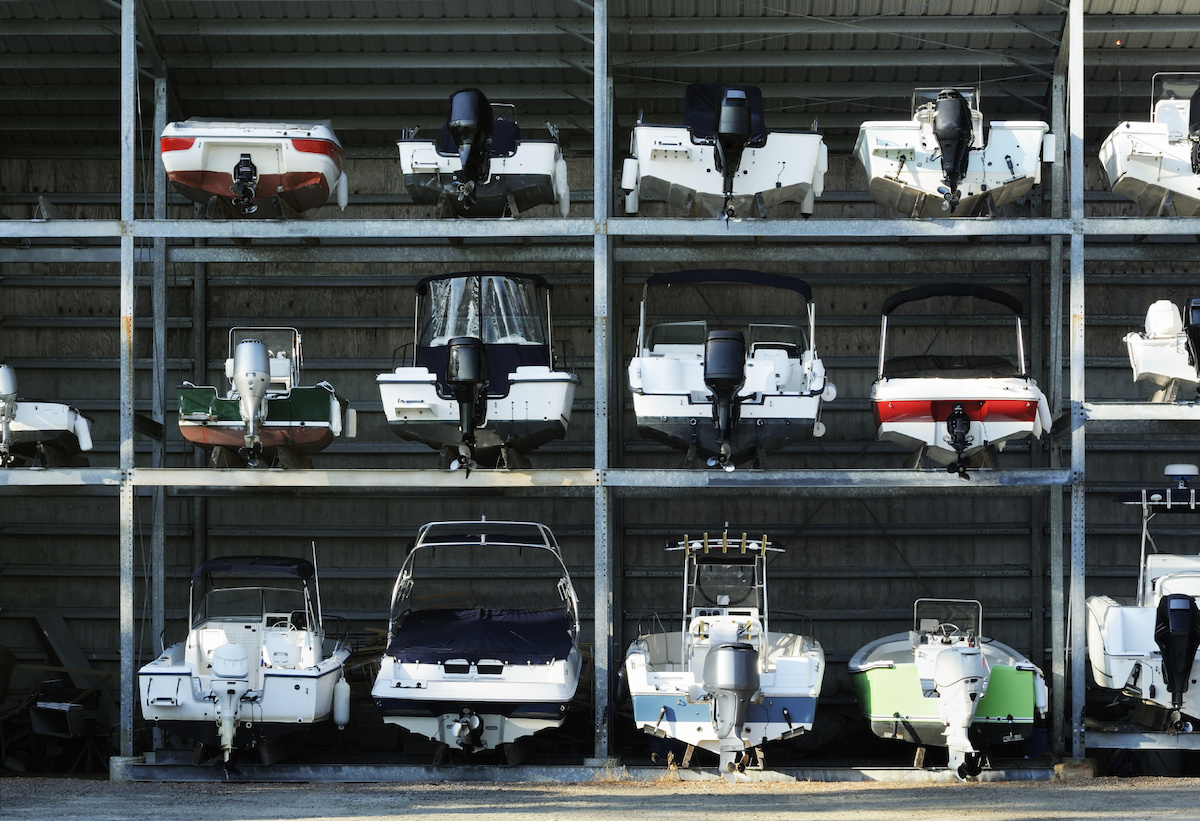 Regarding cost, for outside storage, boats are typically shrink wrapped at a cost of roughly $10-15 per foot, so a 21-foot boat might cost $200-300 to cover and make ready for winter. Inside rack storage costs more, as the boat is inside and better protected from the elements. Figure on roughly $50 per foot for inside storage, so that same 21-footer would cost about $1,000 for the winter season.
Costs for in-season storage range by region and waterway, but as a general guideline, in-water dock space can range from $1,000 to more than $5,000 per season. Indoor rack dry storage costs more, typically 1-1/2 times as much as in-water dock space, but many say it's well worth it to have the boat stored safely inside a building, ready at the dock when it's needed, then washed and stored again when finished.
Marina Fees- If you keep the boat at a marina, you will incur monthly costs for those months of storage; fees will vary depending on inside or outside storage, how often you use the boat, and whether or not the marina includes cleaning and maintenance charges.
Maintenance Costs- Like a car, a boat purchase also carries yearly maintenance costs, and these can vary based on the type of boat, how often it's used, whether it's used in fresh or saltwater, and whether it begins its life with you as new or used.
A new boat will cost less to maintain than a used one, at least for the first few years. With cars, you have cleaning, oil changes, tire and brake service, cleaning, perhaps a battery replacement, and maybe an alignment. With a boat, you have all the same engine maintenance costs, and cleaning, but add hull maintenance, storage, winterizing (when you don't use the boat year-round), haul-out (if not keeping in the water year-round), and spring make-ready and launch.
Costs for these services can vary widely; some of the determining factors will be the boat and engine size, the local area, fresh or salt water, and the type of storage (inside a building or outside, covered, rack storage, etc.). Likewise, costs increase with boat and engine size. For example, cost to service and winterize a four-stroke outboard engine of 150 horsepower might be $250, plus cleaning and winterizing the boat may be another $250.
Also keep in mind that using the boat in freshwater will keep maintenance and cleaning costs down considerably. Saltwater, on the other hand, is definitely harsher on a boat and engine than freshwater.
Boating License- Most states require some type of boaters' safety course and operator's license. These costs can vary from state to state.
Equipment & Accessories- Safety gear (such as life jackets, paddles, horn, signal flares, etc.) should always be considered during any boat purchase. For additional accessories, no need to buy everything you can think of all at once; a good plan is to "treat your boat" every spring and fall to a new accessory or upgrade with accessories like stereos, lighting, watersports towing equipment and more. Spend wisely and you'll enjoy your boat and all the summer fun it brings.
Owning a boat is one of the highlights of lakefront living! You will create so many fun memories with friends and family and you may even pick up a new hobby such as water skiing or fishing. Knowing the cost of owning a lake boat is essential to making sure you aren't spending too much. Sitting down and creating a budget based on your needs and different factors will be a great start to helping your boat dreams turn to reality!
Original Post by Discover Boating
Posted by Scott Freerksen "The Lake Guy"