What happens on your property affects the lake—whether you live along the lake or miles from it. New Hampshire's LakeSmart Lake-Friendly Living Program helps ensure future generations inherit a lake with a healthy future. And the best part? The lake management practices that New Hampshire uses are applicable to nearly every lake in the country.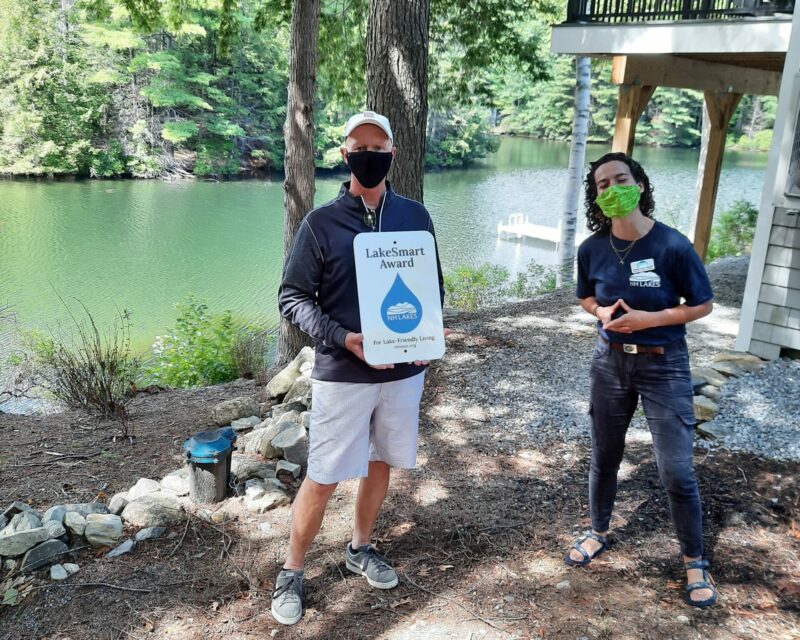 LakeSmart is an education, evaluation, and recognition program that is free, voluntary, and non-regulatory. It includes an evaluation process to determine how lake-friendly your property and activities are. The evaluation covers driveway and parking areas, structures and wastewater treatment systems, and yard and play areas. For properties along the water, the shoreline and shallow water areas of the lake are included.
If your property doesn't initially score high enough to achieve LakeSmart status in all areas, you will be provided with lake-friendly living recommendations. Once you have made upgrades, you can take the self-assessment again and request an optional follow-up site visit.
Owners of properties that achieve LakeSmart status in all areas will be awarded with the coveted LakeSmart Award – two LakeSmart yard signs and a dock sign (if applicable). You can help make lake-friendly living the cultural norm in your community by proudly displaying your LakeSmart Award and leading through example and encouraging your neighbors to do the same!
Bring the LakeSmart Program to Your Property
The first step to becoming LakeSmart is to take an online self-assessment survey from the comfort of your home computer. This survey will take approximately 30 minutes to complete and mostly asks simple 'true' and 'false' questions.
Then, you can request a confidential follow-up site visit from a LakeSmart trained evaluator – this visit is FREE and takes about an hour. Having a trained evaluator visit your property puts you on the fast track to becoming LakeSmart. If you do not request a follow-up site visit, you will be asked to submit photos of your property along with your self-assessment.

To see the survey before taking it online, you can download a pdf of the survey – click here.
Submitting photos: If you aren't requesting an optional follow-up visit from a LakeSmart Evaluator, you must submit photos with your self-evaluation. You can submit photos with the photo documentation form or email photos directly. Find out what photos you will need to submit by downloading the photo documentation form – click here.
Bring the LakeSmart Program to Your Property
Local community groups—like homeowner's associations, road and cove associations, and lake and watershed associations—can make a difference by partnering with NH LAKES through the LakeSmart Program.
Lakefront Living Realty is proud to be a Lakesmart Partner. Contact us to learn more!
Posted by Scott Freerksen "The Lake Guy"